REVIEW: Pinocchio Syndrome by Casea Major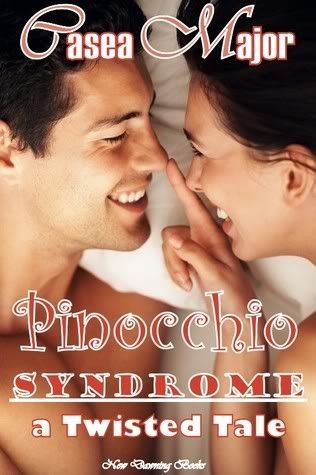 Recap:
Chio, a member of the mob, gets the job of protecting the boss's daughter, but she doesn't make it easy and has other things in mind. With the threat of her father's meat cleaver fresh in his mind, Chio's problems are growing faster than his prick when he lies. Can he resist her or will he lose more than his heart?
Title: Pinocchio Syndrome
Series: N/A
Book #: N/A
Author: Casea Major
Approximate Book Length: 49 Pages
Recommended Reader Age: 18+
Sexual Content: Explicit
Thoughts:
I'm not much for mob stories, but having enjoyed Casea's other works and knowing that it IS a romance story, I read on. I'm so happy I did! Instead of sitting through any mob politics or something, we simply watch a man try to keep a woman reined in, without giving her what she most desires. It turned out pretty hilarious actually.

Chio has that mobster attitude, but for such a badass, he's really got a sentimental streak and sweet dreams in mind – it's pretty darn cute. At first I wondered what kind of girl Rose was, but as time went on, I could see just what she was really after with all her mischief and it was sweet. For a while I was curious if Chio's "problem" was ever going to be demonstrated or anything more than referenced to, but it does come into play in some sexy ways. It was actually kind of funny to watch as they used it to their advantage.

All in all, it was a fun story with an emotional ending that actually had me tearing up a bit. I'm not one for doing quotes, but this line was just hilarious to me, and I thought I'd leave you with it: "Kissing is an invitation to horizontal inclination."
In Conclusion:
Pinocchio Syndrome may sound like mobster kind of story, but truly it is a sweet and sexy romantic comedy that will melt your heart and make you laugh out loud. It was an awesome surprise and recommend it to anyone interested in a quick light hearted read!
Rating:



Links: