Thanks to Bewitching Book Tours for hosting this blog tour. I have Traci Douglass here today, welcome!
*****************************
Introduction To The Scion World:
I've been asked to tell you a bit about the Scion warriors today and the world they inhabit, so here goes. :-)
The Scion warriors are an interesting bunch. They are all human, recruited by Divinity from the greatest battles in human history, and granted immortality to serve as She deems fit.
Their gift of eternal life comes with a price, however. They are sworn to protect humanity and guard those under their watch, no matter the cost. Divinity allows them to live their lives independently, but they have no freewill where missions are concerned. If they are called to complete a job, they have no choice but to take it. They have recently been summoned for a new mission, the most important of their long lives: guarding the Seven Seals of the Apocalypse, harbingers of destruction that have been genetically bound to seven unwitting human hosts.
Physically, they are taller than most humans and extremely fit, due to the long hours of training necessary to fulfill their missions. Also, each Scion bears a brand or mark from Divinity, just below their navel. She uses it to summon them to the heavenly realm, a sort of divine paging system. If injured, a Scion's immortality also grants him accelerated healing powers. The only way to kill a Scion is to dismember them and scatter the parts. The greater the distance, the weaker their healing powers.
The Scion must regularly interact between both Divinity and Lucifer's realms and with many of the creatures that inhabits these places. Things aren't always what they seem for the Scion and many petty jealousies and rivalries happen in both the heavenly and hellish realms and the Scion warriors are forced to deal with those on top of everything else. For example, there is a long-standing feud between the Scion and the Archangels—something to do with freewill and accusations of favoritism. Also, there is also a general mistrust of Divinity's handmaidens amongst the other heavenly dwellers. Silent and without faces, the handmaidens are the only creations, other than humans, with complete freewill.
The names of the Scion warriors, in order of their Calling, are:
Xander – Scion commander
Kagan – featured in Seal Of Destiny
Chago – featured in Seal Of Surrender
Wyck – featured in Seal Of Awakening
Luther – featured in Seal Of Redemption (releasing Spring 2014)
Sloane
Barron
The world they inhabit is our own, with the same joys and sorrows that entails. The challenge for the Scion warriors is to find a balance between their age-old vows and life as we know it. The missions take them to locations all over the world, sometimes glamorous, but most times not.
There are a total of seven books planned for the series, one for each of the warriors and their Seals, as well as a novella detailing the story of each Scion's human life prior to and just after their Calling.
Hope this answers some of your questions. If not, please feel free to ask below in the comments! :-)
Thanks so much for having on your blog today. It's been fun! :-)
*****************************
About the Author
Traci is the author of paranormal romance/urban fantasy and contemporary romances featuring a sly, urban edge, including her current Seven Seals series. Her stories feature sizzling alpha-male heroes full of dark humor, quick wits and major attitudes; smart, independent heroines who always give as good as they get; and scrumptiously evil villains who are—more often than not—bent on world destruction. She enjoys weaving ancient curses and mythology, modern science and old religion, and great dialogue together to build red-hot, sizzling chemistry between her main characters.
She is an active member of Romance Writers of America (RWA), Indiana Romance Writers of America (IRWA) and Fantasy, Futuristic & Paranormal Writers (FF&P) and is pursing a Masters of Fine Arts degree in Writing Popular Fiction through Seton Hill University. Her stories have made the final rounds in several RWA chapter contests, including the 2012 Duel on the Delta, the 2012 Molly Awards, and the 2012 Catherine Awards. An earlier draft of the first book in the Seven Seals Series, Seal of Destiny, won the paranormal category of the 2012 Marlene Awards sponsored by the Washington Romance Writers.
Other current projects include upcoming books in the Seven Seals series, a new contemporary novella series due out in early 2014, and a new futuristic suspense series with hints of the paranormal and plenty of romance.
Find the author:
Website
Facebook
Twitter
Goodreads
Seal of Destiny - Book 1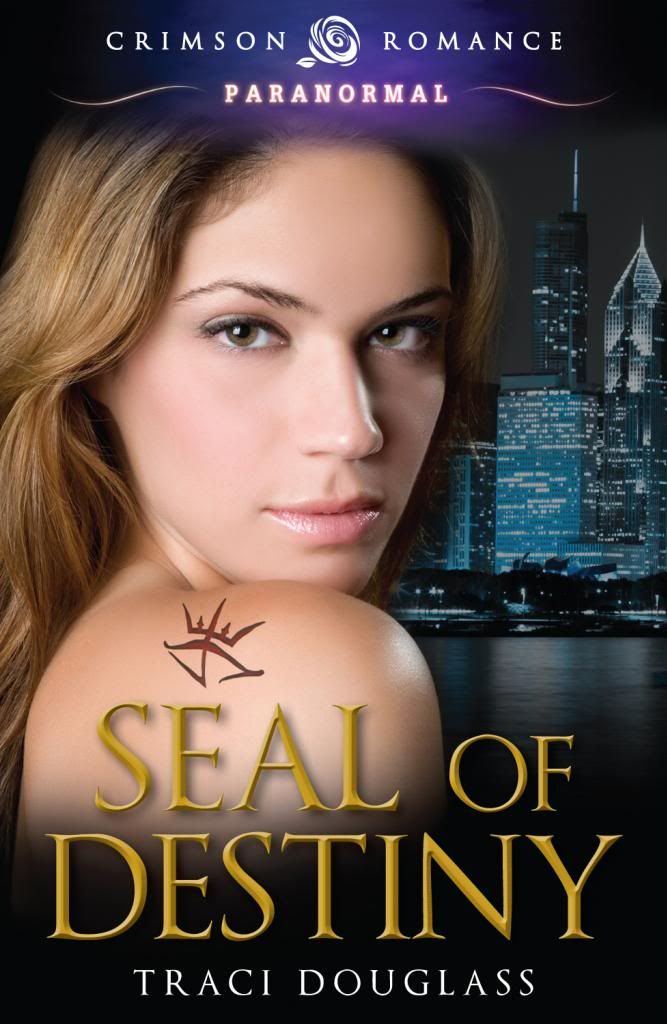 Love conquers all… but can it stop the Apocalypse?

Mira Herald is having the worst life ever. Not only is she plagued by horrific nightmares starring the Devil himself, she's now the target of a power-hungry, rogue minion, freshly sprung from Hell and bent on her destruction. To complicate matters further, she's acquired a stalker. One who insists he's a divine warrior sent for her protection because she houses an ancient relic with the power to unleash Armageddon. Last time Mira checked, she wasn't insane. Still, all this celestial mayhem is enough to drive a girl crazy.

Kagan is a member of the Scion, an elite team of immortal warriors selected by Divinity to aid mankind and save the world. After a century alone, Kagan is summoned for a new mission. He's eager to begin. Eager until he's informed his mission consists of protecting a woman with no clue to the power she wields. Plus, his briefing fails to prepare him for his new target's cosmic-sized attitude problem. As Divinity's sworn servant, he's required to fulfill his duty. His oath, however, does not require him to be enthusiastic about his new assignment or warm-and-fuzzy toward his new compatriot. He plans a wham-bam rescue and a quick return to solitude.

The rogue minion attacks—with the backing of a mysterious organization—and all Hades erupts, putting a fast end to any whirlwind escapes. Accustomed to staunch independence, Mira's survival now requires full cooperation and an unwavering belief in Kagan. The battle-hardened warrior is also forced to chose: between duty and desire. Amidst the turmoil, Kagan and Mira's undeniable passion draws them closer to each other and down a path neither expected but both yearn for, more than they ever knew.

Will love save the day? The world's fate depends on the answer.
Seal of Surrender - Book 2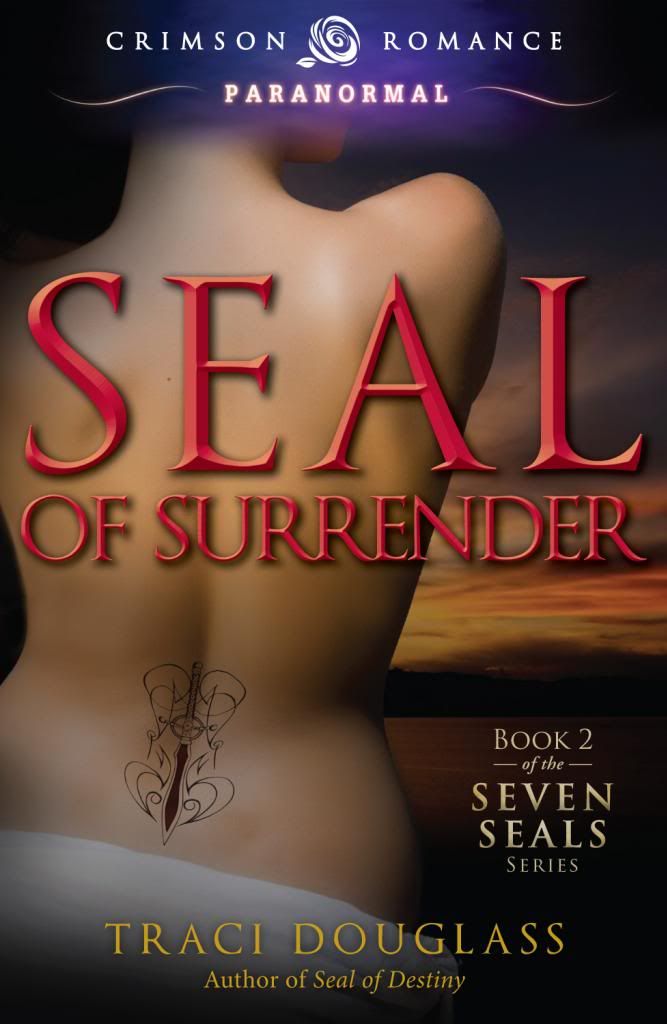 Love, like War, will always find a way…

War has shaped every aspect of Irena Soldan's life—her childhood, her work, her DNA. Unaware she is the genetic host of the second Seal of the Apocalypse, Irena battles for those who cannot fight for themselves. As a top human-rights operative for The Omega Consortium, her company provides both the financial backing required to undertake her task and a charismatic, publicity-loving boss to promote her cause. Life proceeds on plan for Irena until a mysterious, sexy stranger arrives claiming to be her guardian and Irena's path takes a sudden, inauspicious turn for both the erotic and the lethal.

Chago has always been the quiet one amongst his warrior Scion brethren—the brooding, Spanish combat expert with a hidden soft side. A member of Divinity's covert special forces, he's protected humanity for more than a millennium. Still, his greatest joy comes not from the battlefield, but from tending the cattle herd on his remote Montana ranch.

Irena's new assignment takes her straight to the heart of a bloody civil conflict in Sub-Saharan Africa and Chago's mission demands he follow. Expecting a seething cauldron of female whoop-ass, he instead discovers a harbinger of peace amidst a world of ever-increasing violence. The explosively tense situation is further magnified by the cunning Omega Consortium leader, his ambiguous personal agenda, and an ancient foe whose audacious rise to power threatens the world's very existence.

Despite the cataclysmic circumstances, an undeniable attraction ignites between Chago and Irena. Together, they must unravel the ancient puzzle of the Seals and discover her employer's ulterior plans before they both become casualties of War. Soon, both are forced to choose between a past riddled with old torments or risk everything they treasure on a love capable of defeating evil incarnate.
Seal of Awakening - Book 3
Socially awkward geneticist Quinn Strickland has willingly forgone the pleasures in life to reach her career objectives. Alone and approaching thirty, she uses her independence to mitigate any risk of a broken heart. Her strategy works until the day a handsome stranger bursts into her lab and her orderly plans shoot straight to Hades. He claims to be her personal divine protector, a powerful, ancient warrior sent to defend a prophetic time bomb existing within her own genetic code.

The Scion's alpha-geek Wyck is offered the opportunity of his immortal lifetime as head of his own covert operation. He arrives at a Colorado lab expecting starched white coats and sterile surroundings—not a redheaded spitfire in charge of both his project and his libido. His skills have carried him from the battlefields of ancient England to the pits of Hell and he has no plans to be felled by one woman, regardless of her shag-worthy charms. Divine duty requires him to protect the apocalyptic Seal encrypted within Quinn's DNA, but his heart has other ideas. When his personal feelings interfere with his age-old vendetta, he's forced to decide between desire and retribution.