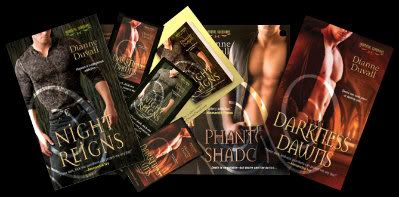 I recently reviewed
Darkness Dawns
and absolutely loved it! Dianne Duvall has begun a series that will live right up on the shelf next to my beloved JR Ward series
Black Dagger Brotherhood
(which says a lot coming from me). With the first two books out and the third in edits, it's sure to be a fun and sexy ride for a long time to come.
Dianne squeezed in some time between deadlines to answer some questions for me, which I greatly appreciate because I may have been a little overzealous in my excitement. She talks about the conception of her
Immortal Guardians
series, the writing process, and her life working in the film industry as well. You're in for an intriguing read!
How did you come up with the concept for the Immortal Guardians series?
My Immortal Guardians arose from two desires. I have always enjoyed vampire romances and wanted to write my own. But I wanted my vampires to be alive. I didn't want to take the traditional undead route. I knew that many historians believed much of the vampire lore resulted from a simple misunderstanding of illnesses like porphyria, so I decided to make the increased speed, strength, regenerative capabilities, and more possessed by vampires and immortals a result of a very rare symbiotic virus that conquers and replaces their immune system.

I also wanted to pit good against evil (who doesn't enjoy rooting for the good guys, even if some of them are bad boys? ;-] ), but thought it would be interesting to take the choice of who fell into what category out of their hands. Usually villains choose to be villains. This wouldn't be the case in my series. I had written two manuscripts prior to DARKNESS DAWNS that featured gifted ones – men and women who were born with special gifts and abilities as a result of extremely advanced DNA, the source of which was unknown. This notion provided me with exactly what I needed to complete my Immortal Guardians world. Immortals are gifted ones infected with the virus. Vampires are ordinary humans infected with the virus. Without the protection offered by the advance DNA of gifted ones, humans suffer brain damage and swiftly descend into madness once infected. Thus, even good men become evil and prey upon humans once infected with the virus.

You seem to have found a perfect balance of fun, action, and romance both sweet and sensual. Did you struggle with finding that balance as you were writing?
Not really. I'm a firm believer in love that begins as friendship, so I enjoy drawing the heroes and heroines in my books together in friendship even as their attraction to each other grows and intensifies. I also LOVE action and humor and like to balance those equally with the romance. I think doing so makes both the reading and the writing more fun. :-)

Do you have a certain number set for how many books will be in the series?
No. I recently signed another 3-book contract with Kensington for Books 4, 5, and 6, but plan for the series to continue beyond that. The exact number I probably won't know until I reach that last book. I'm also currently writing an Immortal Guardians novella that will appear in an anthology alongside stories by Alexandra Ivy and Nina Bangs, so there will be at least one of those, too. :-)

Are there hopes or even plans of making the books into movies or anything?
I would love to see my books made into movies. I would even enjoy participating in the production process, since that's what my day job entails. If I could interest a production company in my series, I would jump at the opportunity, and hope I can do so in the future.

I know you work in the independent film industry, what got you started there?
I studied all forms of writing while pursuing a B.A. in English. While doing so, I met screenwriters who, when meeting that wall that prevents so many from entering the Hollywood film industry, were producing and directing their own films and leapt at the opportunity to join them. I love doing just about anything that allows me to be creative and thought it would be great to explore the many facets of filmmaking, from editing scripts and aiding in casting projects, to serving as script supervisor and providing special effects and -- even more fun -- special effects makeup during production, to editing the films themselves, cutting trailers, and designing posters. It's a lot of work and can have very tight deadlines, but is so much fun. :-)

Is there somewhere we can look for some of the films you've worked on?
Most of the films I've worked on have only or can only be viewed in film festivals. The short films and trailers were used as stepping stones to gain exposure and funding for feature films. And the feature films are still seeking distributors. Just for you and your followers, however, I obtained permission from a filmmaker I recently worked with to provide you with a link to the trailer for a film I provided special effects makeup for and edited. I created the trailer, which was scored by an award-winning composer. Here's the link: http://www.dianneduvall.com/aHauntingatGSUtrailer.htm

So how do you write? Does music help? Do you sit down with a cup of coffee or tea and maybe some munchies as you settle in for a writing session? What gets you inspired?
I'm a pantser, not a plotter, so I "fly by the seat of my pants" and write the story as it comes to me as supposed to constructing a plot first. I usually have a tall glass of chocolate soy milk beside me, my way of satisfying my chocolate craving while avoiding the fat and calories. I write on a NEO -- a laptop-sized word processor -- that I actually won in a writing contest into which I entered DARKNESS DAWNS, then upload the pages to my computer. That keeps me from being distracted by Facebook,Twitter, email, and more (so tempting!). I can write in just about any environment. I've written while sitting in an audience waiting for a concert to begin. I've written on the set while the actors ran lines and the crew moved the equipment and lighting for the next scene. I do have difficulty, however, writing when neighbors blast music and make a lot of noise. Ironically, in such instances, the only way I can write is to put my earbuds in (so I don't disturb my quiet neighbors) and blast Disturbed. :-)

As for inspiration, I find it everywhere. Reading a good book makes me want to write a good book. Every time I read a Stephen King novel, for example, I just want to write, write, write. Obscure information I see in documentaries or on the History Channel, etc. can spark ideas. In fact, it was on one of the educational channels that I saw the discussion on the origins of vampire lore that inspired me to create a virus that causes vampirism.

Do you have any advice for aspiring authors?
First and foremost, persevere. Whether you're just getting started or on your second or third manuscript, I highly recommend that you read or listen to Stephen King's ON WRITING. Try to find someone to critique your manuscript who isn't afraid to be brutally honest. Entering contests can give you an idea of how complete strangers all over the country might respond to your writing. Some of the criticism you will receive in them will be helpful and constructive. Some won't, hence the mixed opinions many writers have of them. I found it helpful, though. And finaling in contests is a nice way to get your writing in the hands of agents and authors who otherwise would either likely reject it unseen after receiving a query or not accept a query from an unagented author at all. And, last but not least, if you run into that wonderful catch 22 -- you can't submit to some publishers without having an agent, but can't seem to interest an agent without first proving yourself by getting published -- don't be afraid to submit to the publishers you can yourself. My career as a published author resulted from my submitting a simple one-page query to an editor at Kensington who accepted unagented submissions.

I could be wrong, but I would imagine that when your first book came out, you probably got really excited for every good review. Do you still? Or do you mostly just focus on reviews for your most recent release?
I'm thrilled by every good review my books receive. DARKENS DAWNS has received a number of great reviews recently by reviewers like yourself (I loved your review!) who didn't discover my series until Night Reigns was released in December. Every single one brings a huge smile to my face. Six books from now, a great review for the first book will still send me running to my husband to share it. When I was working so hard to get published, I thought seeing my books on shelves would be the best part, but reading good reviews and hearing from readers who enjoyed the books and are looking forward to the next in the series is even better.

Can you share a few random facts about yourself?
Hmm. Random facts. I liked puttering in the garden. I'm a huge fan of Stephen King. My favorite genre is paranormal romance, my second favorite medieval romance. I'm not a vegetarian. I prefer paperbacks and hardbacks to ebooks. I'm oddly proficient at shooting basketball free throws. I've recently become a Phineas and Ferb addict. And I love almost all forms of music.
Dianne Duvall is the award-winning author of the Immortal Guardians paranormal romance series. Her debut novel
DARKNESS DAWNS
has been nominated for the "RT Reviewers' Choice Award for Best Vampire Romance 2011" by RT Book Reviews, for "Best Paranormal Romance - Vampire 2011" by The Romance Reviews, and for "Best Book of 2011" by Long and Short Reviews.
NIGHT REIGNS
, the second book in her
Immortal Guardians
series, has been declared an "utterly addictive" Top Pick by RT Book Reviews, "intense, passionate and engrossing" by The Romance Reviews, and "a clever, unique, and brilliantly executed book" by Long and Short Reviews.
PHANTOM SHADOWS
, the third book in the series will be released in October 2012.
When she isn't writing, Dianne is active in the independent film industry and once even appeared onscreen as a machete-wielding maniac not unlike the vampires she so loves to create in her novels.
Find out more about her and her work
here
. You can also find her at her blog (
The Immortal Realm
), on
Facebook
, on
Twitter
, and on
Goodreads
.
Night Reigns Now Available!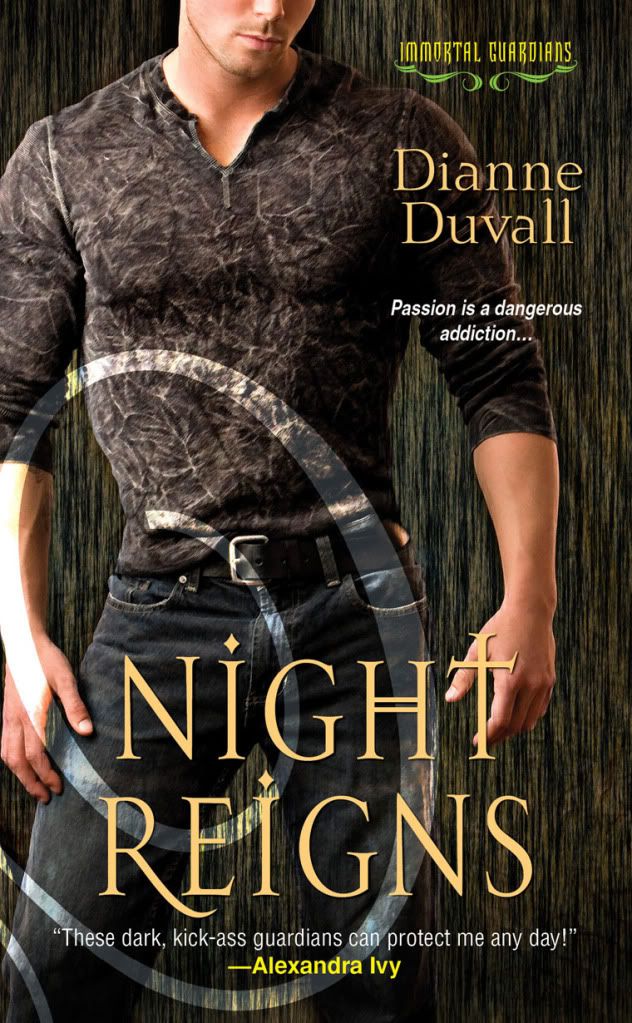 Ami isn't much for trusting strangers. She has a hard time trusting anyone. But she's no coward, and she's no pushover in the protection department either. So when she comes across a mysterious warrior taking on eight deranged vampires on his own, she doesn't hesitate to save his bacon. Of course, that was before she realized what one little rescue would get her into . . .

Marcus Grayden has been an immortal protector of humanity for eight hundred years, and at the moment he's not interested in backup. From the moment Ami arrives in his life, he can't deny that she's strong, smart, and extremely skilled at watching his back. But she's also destroying his protective solitude and stirring desires he can't bear to awaken. After all, whatever her secrets -- how can she defeat death itself?
**Want to win that SWAG you see at the top of the post? One lucky person will win that PLUS their choice of a signed copy of Darkness Dawns or Night Reigns! Enter the Rafflecopter below for your chance (Int'l entries are welcome).**
a Rafflecopter giveaway