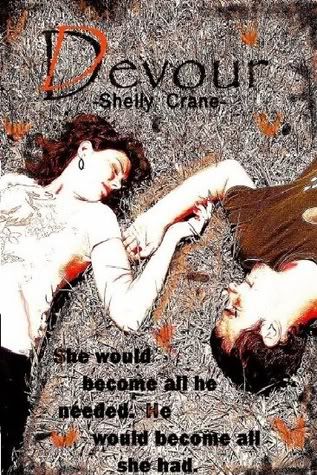 Recap:
Clara had the perfect life, until her parents were torn from her life. Now living with the Pastor and his family, she's coping, but noticeably different. However, it isn't until the new kid, Eli, shows up that her life will truly change, in ways she never could've imagined.
Title: Devour
Series: Devour
Book #: 1
Author: Shelly Crane
Approximate Book Length: 283 Pages
Recommended Reader Age: 16+
Sexual Content: Mild
Thoughts:
Another young love story from Shelly Crane, and once again, it's sweet and romantic. However, this tale has a dark side. Eli is more than he seems, and loving Clara drags her into his world, which is teeming with danger and cruelty. Even Eli's brother has a mean streak. This book also introduces a new kind of immortal, making for neat concepts and characters.

However, even with the romance and excitement, I just didn't feel the same connection I had with Shelly's other works, and the relationship between the main characters doesn't feel quite as plausible, like the characters fell for each other too easily maybe? I can't quite put my finger on why I couldn't quite relate as well. Regardless, an overall enjoyable experience, and the release of book two, Consume, is just around the corner!
In Conclusion:
A unique paranormal love story set in a fresh new world. Shelly Crane is known for sucking you into her books with the romance she weaves that leaves you so invested your heart skips a beat and pounds every bit as much as the characters, and this one is no different. Don't miss out on this series!
Rating:


Links: