Author of the
Significance
,
Collide
, and
Devour
series, and having recently announced the title of the first book in a new series,
Smash into Me
, Shelly Crane is a very busy woman! She was kind enough to sit down and answer a few questions. Below you'll find a little insight into the mind of an ambitious author who loves what she does!
How did you come up with the story line behind your books?
Burger wrappers, dreams, road signs, cheesy commercials. Just about anything can spark a vibe of imagination ;)

Are you planning to keep going and going, going?
Oooooooh yeah. Absolutely.

What did you want to be when you were growing up?
A cop. You can try to figure that one out.....

Who's your favorite author and\or favorite book and why?
Love me some Richelle Mead and Kelly Armstrong. Love Quinn Loftis, Georgia Cates, Fisher Amelie, Colleen Hoover, Samantha Young, Amy Bartol.... I could go on for miles.

Do you have a cast in mind if your book were ever to become a movie?
I do. There is a huge cast list on my Facebook page made from fans that are way better though.

What is something you wished you'd done differently when publishing your first book?
Edit and then, um....edit....and then.....eh, edit some more.

What is something awesome that we can look forward to in future books?
Finales, babies, weddings, aliens, sleeping in cars. And lots and lots of love.

Any lessons learned or advice to new authors?
To do your research, reach out to other authors (Because they are awesome and supportive) and reach out to your fans because THEY ARE THE REASON YOU ARE HERE!

What's your absolute favorite thing about be an author?
Knowing someone, somewhere is reading my story....it still makes me bite my nails in anticipation of hearing what they think.

List 5 random things about yourself.
- I hate mint and chocolate together. *Shivers in disgust*
- I am a music freak. I'm listening to something every minute of every day, especially while writing.
- Reba McEntire.(Yeah, that one) sang in my back yard when her bus broke down when I was a baby. She said I was cute. (true story!)
- I had a NKOTB bedspread when I was 7.
- If my house were on fire, what 3 things would I grab? Laptop with work in progress on it, box of my son's baby books and keepsakes, and Kindle (Of course)
Shelly is a YA author from a small town in Georgia and loves everything about the south. She is wife to a wonderful husband and stay at home mom to two boisterous and mischievous boys who keep her on her toes. They currently reside in everywhere USA as they happily travel all over with her husband's job. She loves to spend time with her family and friends, go out to eat at new restaurants and site see in the new areas they travel to, listen to music and also LOVES to read.
Her own books happen by accident and she revels in the writing and imagination process. She doesn't go anywhere without her notepad for fear of an idea creeping up and not being able to write it down immediately, even in the middle of the night, where her best ideas are born.
Find her
here
.
Consume Now Available!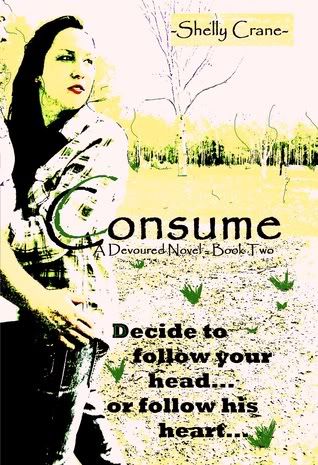 Eli and Clara's story continues as she tries to finish high school. Eli is as over protective as ever and Tate and his group of friends are no help. They wait for the Horde, always looking over their shoulder. But the ever annoying but strangely prophetic bird begins to become more of a chatter box and Eli learns something that could change some things. Not just for him and Clara, but Devourers everywhere.

Then an unexpectedness guest comes forcing Eli to flee with Clara, leaving her temporary family behind. She is thrown into his world of underground 'traitors' and learns much of his past. They meet many new people and creatures along the way to freedom. But when tragedy strikes the two, will Clara see the monster in Eli? Can she handle his strange world and awful past? Will one of them lose their life forever...