***This book was originally reviewed for My Secret Romance.***
~~~~~~~~~~~~~~~~~~~~~~~~~~~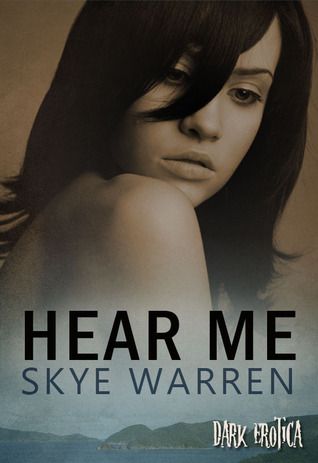 Summary:
She wakes up in a spare room, where the only thing she remembers is her slave training. The master who finds her claims he doesn't want her. He just can't seem to resist her. The secrets of his past haunt the cabin, fraying the tightening bond between Master and slave--though her own memories may finally unravel it. Hear Me is a dark erotic book that explores dubious consent, captivity, and power play. Not intended for those uncomfortable with the subject matter or those under 18 years of age.
Thoughts:
I struggle to decide where to start! I'm very fenced about this story, because I like BDSM, but until this story, I didn't realize that it was only to a point. The term "dark erotica" is no joke. It's a very dark story involving hard core BDSM. Barring her captivity, there are several instances of questionable consent, yet they don't cross the line and are surprisingly erotic.

While a great deal of this story is obviously physical, it's also a very mental and emotional one. Her memories of her captivity, the bleakness of her future…it's just so heartbreaking. It gets even more so when she finally realizes who she is, and what had happened. The woman's journey of self-discovery and figuring out just what she wants is a powerful one.

My few problems were that it sometimes felt more like a victim's story than a romance, the details at the end were a little hard to follow, we never find out if the men that "trained" her are ever dealt with, and the subject of birth control never comes up at all which is surprising to me. In the big picture though, these things just don't really end up mattering much.

The bottom line is that while I'm not sure it was quite my cup of tea, Hear Me was still a strong story full of unforeseen twists, and has a satisfying ending.