***This book was originally reviewed for My Secret Romance.***
~~~~~~~~~~~~~~~~~~~~~~~~~~~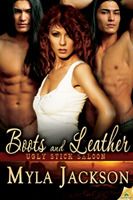 Summary:
Libby's been in Temptation, Texas for eight months, and in that time she's done her best to keep her distance from the Gray Wolf twins, knowing she'll need to get back on the run soon and can't have any attachments. They've been trying to get her attention, but it's an invitation to go riding at their ranch that finally grabs it. She longs for a life she can't have, and it makes her stay just one day too long. Nothing will be the same now when her past finally catches up to her. Will the twins be able to convince her they're worth sticking around for?
Thoughts:
Pretty early in the book, you can tell there was a story before this one, but you don't really feel like you're missing anything, though what you do find out makes you want to go back and read it anyway.

There's intrigue and an instant connection with Libby right from the beginning, and you also kind of fall for the brothers right from the start too with their easy banter and protective natures. They describe what it's like to go riding on their ranch, and it's an offer a girl can't refuse, though if she had, I would've jumped in the book and taken them up on it!

The buildup to finding out what it is that Libby's running from is frustrating, but in a good anticipatory way. However, the final showdown felt a bit anticlimactic and the overall conflict didn't seem nearly as bad as expected. In the end, Libby almost comes across more cowardly than desperate for having run under the circumstances.

Overall though it was enjoyable. It's hot as hell, even has a little voyeurism and kink thrown in at one point for good measure. On a random note, the saloon reminded me of "Coyote Ugly", I loved the description of Libby's motorcycle, and Luke's my favorite brother, though both are the perfect blend of rough and tender, sexy and sweet. It's definitely worth a read.