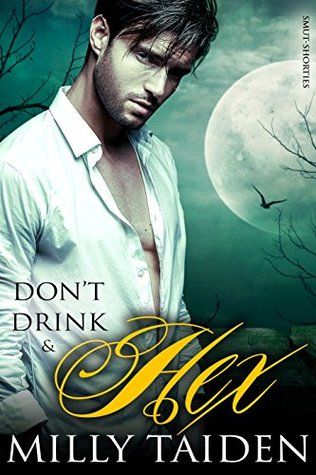 Summary:
A BBW Witch and too many bottles of wine plus a hot wolf = The hottest sex of her life

Drinking and Hexing is never a good idea. Selena Azul decides to help out a friend by creating a love potion. Only problem is she's doing this while getting real friendly with a few bottles of wine.

Her hex goes wrong and suddenly her neighbor Gage is in her dreams. It takes a few minutes to realize she's not dreaming. And her love potion has disappeared. She now has what she believes is a hot as hell hexed wolf wanting to take her in every way possible.

If only he weren't so sexy and naked, she might have an easier time keeping him at arm's length while trying to figure out how to fix this mess...
Title: Don't Drink and Hex
Series: Smut Shorties
Book #: 2
Author: Milly Taiden
Approximate Book Length: 26 Pages
Recommended Reader Age: 18+
Sexual Content: Explicit
Thoughts:
There were things I liked and things I didn't like. I like the confusion over the spell gone wrong and Cleopatra's cameo appearance. I also like Selena's attitude. However, the story needs some editing, is too short for sufficient world-building, and while there's plenty of lust, there's no love. Despite how it ends, I like a little more emotion, even in my smut.
Bottom Line:
Don't Drink and Hex is a very quick sexy read that piques interest and leaves you wanting more. Don't miss out!
Rating:


Links: