Carrie Ann Ryan is the author of the
Redwood Pack Series
, with a new series due out this year. While there will be seven books each, she'll also put out a novella here and there, just for her readers. So far she's got three books and a novella out for the Redwood Pack. I have reviews for
An Alpha's Path
and
A Taste for a Mate
up, with
Trinity Bound
and
A Night Away
coming soon!
Carrie Ann was nice enough to answer a few questions for me today, and she's also got an excerpt from the recently released, A Night Away, to share with us! Walk with me as I talk with her and the Redwood Pack stars from the first two books!
*Carrie Ann and Buffy walk around the Redwood Pack den. Jasper, Willow, Kade, and Melanie trail behind them*

Carrie Ann: Thanks, Buffy, for coming. I love it here.
Buffy: So do I, it's beautiful! So, what got you started in writing?
Carrie Ann: I started writing because after reading so much romance, I couldn't stop the voices in my head LOL.

Buffy: Indie or traditional publishing and why?
Carrie Ann: Both! I don't care what type of publishing, as long as it produces quality work, I'm happy.

Buffy: Why werewolves, and not werecats or some other shifter?
Carrie Ann: Since this was my first series, I wanted to go with something I felt comfortable with. I've always loved wolves, so this seemed like the logical choice for me. But my next series, Dante's Circle, has just about every species imaginable.

Buffy: We've got werewolves and demons, are there going to be any other paranormal creatures showing up throughout the series?
Carrie Ann: There are witches in this universe, and you'll meet Hannah in book 3 in Trinity Bound. But other than that, not so much.
Buffy: Good to know. Thanks so much Carrie Ann! *Smiles and walks over to Jasper and Willow*

Buffy: *Facing Jasper* How's it feel to be an uncle? Are you more or less excited and/or scared of becoming a father?
Jasper: *grins* Finn is an amazing little boy. Kade and Mel should be proud. *smiles at his brother and sister-in-law* As for our baby? *places his palm on Willow's stomach* I'm…excited, nervous, scared, and ready. You know what I mean?

Buffy: Yeah I can imagine! Have you stepped up security now that you're at war with the Centrals?
Jasper: *furrows brows* Yes. It's a must. We're still looking for better ways to protect the Pack though.

Buffy: How's Maddox doing with Reed and Adam out there?
Jasper: Not well. But really, are any of us?

Buffy: Has Adam checked in at all, or are you just waiting for whether or not they come home?
Jasper: *shakes his head* No, not yet. He can't. But we can still feel his presence in the Pack.

Buffy: *Turning to Willow* Are you coping well after all the things you've experienced at the hands of the Centrals? No trouble sleeping or anything?
Willow: *smiles and leans into Jasper* I sometimes have nightmares. *Jasper growls* But I do better with Jasper by my side.

Buffy: How's the pregnancy going?
Willow: *holds her round stomach* Amazingly well. I can't wait to be a mom.

Buffy: Have you had any problems with any other pack members?
Willow: *shakes her head* Not anymore. Not since Camille…left us…

Buffy: How's the bakery going? I bet it's a huge hit with the pack.
Willow: *grins* Oh yes! Though now that I'm getting so big, I have to cut back. You'd think the Pack would be upset about that, but no. They just pamper me more. *laughs* This Pack loves children.

Buffy: How's the rest of the family with everything that's going on?
Willow: Good, I believe. Well…as good as to be expected.

*Kade and Mel walk up*

Buffy: *To Jasper and Kade* How do you guys feel about humans, like myself, knowing about y'all without having mated into it?
Kade: I'd love for everyone to know. But it's too much.
Jasper: For everyone to know, it would be a mess. People don't like what they don't understand.

Buffy: Do you have to deal with anyone still griping about the fact that your mates were originally human?
Kade: *shakes head* No. They're our mates and are well loved.

Buffy: What measures are you taking to try to deal with the demon threat the Centrals have brought on?
Jasper: We have strengthened the wards and put more on patrols. We'll make it through.

Buffy: *Anxious to change the subject* Ladies! What's it like to be werewolves? I bet it's so much cooler than your human days lol.
Willow: *laughs* It's different to have a wolf in your brain all the time. But nice.

Buffy: I know the transition was tough, but since then, has the adjustment been easy?
Mel: It's been better since then.

Buffy: Having mated the Heir and Beta, is there any jealousy you deal with from pack females?
Willow: There are always looks, but I think everyone is happy for us.

*Jasper walks up and pulls Willow to him* We need to go now. *Growls playfully* I need to take care of my mate.
*Willow blushes* Bye you guys.

Buffy: *Turns to Kade and fails to keep the grin off her face* How's the proud papa doing? Getting any sleep yet?
Kade: *smiles* Sleep? What's that?

Buffy: How much harder is it for you to cope with the Centrals war now that you have a family of your own to think of?
Kade: *growls* I've always had a family to take care of, but now that it's my mate and son….I don't know what I'd do if the Centrals came for them.

Buffy: How has the baby changed your and Melanie's life? Do you still have *cough* quality time *wink*, or does Finn demand all your time?
Kade: *growls* Next question?

Buffy: *Quickly taking the hint and moving on!* Will Finn's werewolf heritage affect his development? Will he grow faster or slower or anything than an average human would?
Kade: He'll grow normally. The only difference is around three, he'll be able to shift.

Buffy: Neat! Melanie, I've heard you're growing into your role as Alpha female, but how do you feel about it?
Mel: It's worthwhile. I never thought I'd be good in a leadership role. But it's not about making orders, no, it's about making sure your Pack is well cared for.

Buffy: How's motherhood treating you?
Mel: Tiring, but I love my Finn.

Buffy: As the first baby in the generation for the Jamensons, does everyone dote on him?
Mel: Oh yes! He's a spoiled little baby. But he's my baby.

Buffy: Do you and Larissa still spend much time together? I would think it'd be even easier now that you're both mated into the pack.
Mel: Yes and no. We do dinner every week, but we're both more busy now with the Centrals around.

Buffy: I would imagine. So, I hear you and Kade have a romantic little night away planned. Care to share what's in store?
Mel: Oh, well, Kade and I needed time for just the two of us, so he's taking me out. *blushes* I don't know what he has in store for me.

Buffy: *giggles* Well, it's been so awesome to meet with you guys, and thank you so very much for having me! It has been absolutely surreal, and the land is gorgeous. I sincerely hope that the battle with the Centrals is over quickly, with little blood spilt, and that you get your brothers back home safely. I look forward to meeting with you again sometime, and learning more about your siblings' lives. I have no doubt you'll all get your happy endings, I just pray no one has to go through hell for it!
Carrie Ann Ryan is a bestselling paranormal and contemporary romance author. After spending too much time behind a lab bench, she decided to dive into the romance world and find her werewolf mate - even if it's just in her books. Happy endings are always near - even if you have to get over the challenges of falling in love first.
Her first book, An Alpha's Path, is the first in her Redwood Pack series. She's also an avid reader and lover of romance and fiction novels. She loves meeting new authors and new worlds. Any recommendations you have are appreciated. Carrie Ann lives in New England with her husband and two kittens.
Carrie Ann loves hearing from readers. You can find her at:
Website
/
Heartthrob Haven
/
Facebook
/
Twitter
.
A Night Away Now Available!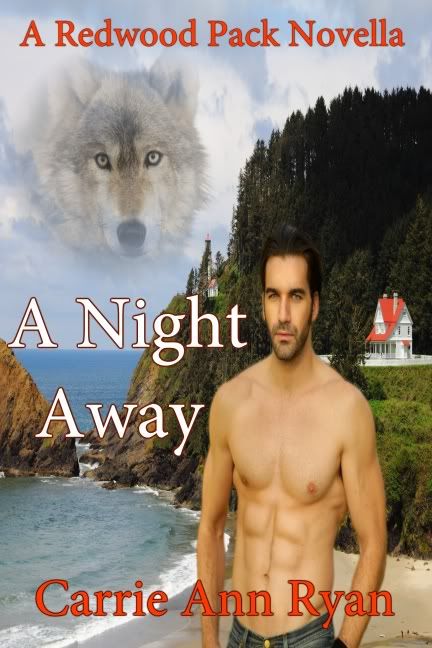 Kade Jamenson has been mated to Melanie for almost two years. They've been through mating circles, battles, loss, misunderstandings, and finally, the birth of their son, Finn. The world is in turmoil around them as the Redwoods engage in war with the Centrals. But for Kade and Melanie, the turmoil is also happening at home. The responsibility of a restless baby and their Pack has taken a toll and they need a break.

Not from each other. But from their Pack. Just for a night.

Kade takes Mel away for a romantic getaway and leaves Uncle Maddox alone with baby Finn. The Omega of the Redwood Pack may be adept at emotions but the idea of a baby may be beyond his immense capabilities.

*Author's Note: This is a novella set between books 3 and 4 to give you a taste of Mel and Kade. It is best that you have already immersed yourselves in the Redwood Pack world, however even new readers will enjoy a glimpse of one of the Redwood's favorite couples.*
Excerpt!
Kade Jamenson closed his eyes and prayed for resolution. A piercing shriek startled him, making him jump to his feet.

Finn.

Finn. His eleven-month-old son, who wouldn't stop screaming, no matter what they did. The kid always needed something, either to be fed, changed, held, burped, played with, or just stared at. It seemed never ending. Even now that he was older, he still screamed or babbled constantly.

Dear God. How the hell did humans do this? Kade had more endurance than any human, witch, and most werewolves out there. Yet a tiny fifteen-pound baby with big blue eyes took every ounce of strength he possessed. Not to mention sleep time.

Kade groaned and rolled his neck before he walked into his son's room. He and Melanie had painted the room in a soft green to match the Jameson eyes and added cream borders to break it up. Dark wood furniture filled the room along with cream linens covered with frog princes and bumblebees. Stuffed animals of every sort covered the tops of most pieces of furniture, gifts from his Pack and family, who cherished Finn like their own son. He took another step in and realized he hadn't been the first one to answer his son's call.
**To celebrate the interview, I'm giving away some SWAG! There will be 2 winners, and the pack will include 2 signed Redwood Pack bookmarks, 1 signed Dust of my Wings bookmark, 1 Carrie Ann Ryan magnet, and 1 signed Carrie Ann Ryan info card (which is beautiful btw!). Just fill out the Rafflecopter below and you're entered to win!**
a Rafflecopter giveaway