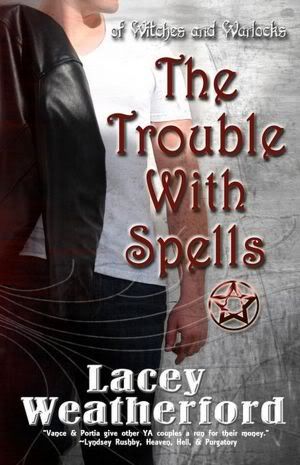 Recap:
Portia Mullins is a normal fifteen year old girl until she gets the shock of her life on her sixteenth birthday and is thrust into a world of magic she never could have imagined. There to help guide her is the school's mysterious bad boy, who just happens to have a special connection with her. But Vance has a nasty past that catches up with them both, and Portia will have no other choice but to find out what kind of power she really holds.
Title: The Trouble With Spells
Series: Of Witches and Warlocks
Book #: 1
Author: Lacey Weatherford
Approximate Book Length: 304 Pages
Recommended Reader Age: 16+
Sexual Content: Mild
Thoughts:
The book starts off with a brief passage from Vance's point of view, then switches to two years later from Portia's point of view. While it's the only part we see from Vance's POV, and it's really very brief, it starts the ball rolling on the connection between Vance and Portia from the very start. And what a connection it is! We spend some time in the everyday life of Portia, and we tag along as she discovers the truth about herself on her sixteenth birthday, and learns about the boy who's had all the girls swooning since the moment he stepped on campus. We see their relationship grow ever closer, and struggle through the awkward and just plain tough moments. The big question is: will it be enough to save them from the evil that now hunts them?

The neat thing is that because we're reading from Portia's POV, and she's just discovering the world of magic, it presents the author with the opportunity to character build, world built, and push the plot along without extraneous exposition. I call that a well designed story. The love story is incredibly sweet, and tackles hard questions, such as sex, while remaining realistic and honorable. I think it's a great book for teens based on that alone! The magic is neat, if a tad convenient. I am a fan of shows like Charmed, movies like Practical Magic, and books like Significance, so the way magic was presented as well as some characteristics of Portia and Vance's relationship made me think of all of them combined, which is totally cool.

A minor complaint I have is that the passage of time was occasionally a little unrealistic or hard to follow. When months have supposedly passed, I didn't feel the couple showed the changes you would expect from having been together that long. But ultimately, it's not something you notice often, nor does it really take away from the story.
In Conclusion:
Overall, I have to say I very much enjoyed the book. It's a powerful tale that draws you in and gets you emotionally invested, then pulls the rug out from under you with the exciting climax without leaving you completely devastated. It was a pretty awesome book, and I look forward to the next one!
Rating:



Links: