Lacey Weatherford writes pretty lighthearted and very sweet books, and she's a big part of the writing community online and on Facebook, and I'm very happy she could sit down and answer a few questions for me.
She's most known for her series
Of Witches and Warlocks
, but is also getting into YA contemporary romance with her latest release of
Chasing Nikki
. She's also going to debut a new spinoff series later this year
Of Witches and Demons
. Check out my review of book 1 in the
Of Witches and Warlocks
series
here
.
Despite being super busy with the RT convention in Chicago recently, she took the time to let me learn more about her work. You can do the same by reading below…
BK: Was The Trouble with Spells your first published work?
LW: Yes, it was. I did it kind of on a fluke after some of my family members read it and thought I should try to get it published. I signed with the first publisher to offer me a contract, and had a horrible experience with them. I spent the next year trying to get out of that contract and learn everything I could about the industry. I met some great people along the way who helped me, so when I was finally able to buy out my contract for the first book, that was when things really started taking off for me.

BK: How amazing did it feel when it raced to the top of the bestsellers list on Smashwords?
LW: Actually, I've had most of my success as a number one best seller on Amazon, though I have been featured at number one several times on Smashwords as well. I think all six of my books have been number one on both Amazon and Smashwords actually, but Amazon is definitely the place where the most action is happening for me personally. It's a crazy feeling. I'm glad people love the books so much. My last two releases, #5 in the Of Witches and Warlocks series, Possession of Souls, and my first young adult contemporary romance book, Chasing Nikki, both hit number 1 on the first day of their release. That was a pretty incredible feeling. I'm just so grateful to all my readers who have been so supportive of me.

BK: There are currently 5 in the series, are you planning on continuing the series?
LW: Book 5 is the last book in the Of Witches and Warlocks series. The next will be a spinoff series, Of Witches and Demons, and the first book in that will be called Slayer. It's scheduled for October of this year. There will also be a sequel to Chasing Nikki, called Finding Chase, which is scheduled for December.

BK: I've noticed that you seem to get inspiration for characters from the people around you. Who was the inspiration for Portia and Vance?
LW: Actually, Portia is just a figment of my imagination. I didn't really base her on anyone, though she does have some similar attributes of my oldest daughter. Vance was based on actor Matt Lanter, (90210, Vampires Suck, Star Wars: The Clone Wars) in looks and mannerisms. I'd seen him once briefly on television, and I guess he made an impression, because the instant I thought of the character his image popped into my head. I went out and bought all his movies and watched all his television shows so I could write him. Matt has been great with everything, leaving comments for my readers on my blog tours, donating signed pics for giveaways and stuff. If you aren't watching him, you should, because he's awesome!

BK: What made you write about magic?
LW: I've been fascinated with magic and witches ever since I was a very little girl. I used to ask to be a witch or a fairy for almost every Halloween. My favorite shows as a child were Bewitched and I Dream of Jeannie. I also loved reading any kind of paranormal books with ghosts and things like that. I've never lost that fascination as I grew up, always searching out books and movies of the same variety.

BK: We've all done silly stuff as teenagers. I know I used to try to do spells and such. Did you? (If so) How'd that work out? Any fun stories?
LW: I remember constantly playing with my cousing and pretending to do magic things when I was younger. I most wished I was magical when I had to clean my room! It would have been so convenient! That actually made it into The Trouble with Spells. I read books on spells and stuff, but I don't think I ever tried to cast one myself. Most of that stuff was while I was a child. When I was a teenager, I discovered the magic of boys and my attention was completely diverted toward them! Haha.

BK: Do you ever have conversations with your characters in your head as you write?
LW: Not while I'm writing so much, but Vance was a REALLY chatty character, usually when I went to bed. I remember telling him to shut up on several occasions! haha I finally started keeping my laptop by my bed at night so I could wake up in the middle of the night and write things down. Vance never cared where I was or what I was doing. He was always talking in my head. I secretly thing he may be an undiagnosed personality of mine! hahaha Chase was a much more well mannered character. He didn't talk while I was sleeping, or maybe I was too exhausted to notice if he did. LOL!

BK: You get us all invested in the couple, then put them through hell! Does it break your heart too as you write about the climax of the conflict?
LW: It's always hard to put my characters through the wringer. A lot of times I'm drawing a little bit from the emotion of my personal experiences. It's not uncommon for my family to walk into my office and find me weeping over whatever I'm working on. Those feelings are very real to me, and I love my characters like they are real people so my heart breaks for them when they go through tough trials. I have apologized to my characters for things I put them through. I've always joked that if I actually met Vance in a dark alley it might be wise for me to run the other direction! Ha. But every good story has good conflict, right? So that's my rationalization for sending my poor characters to hell and back again.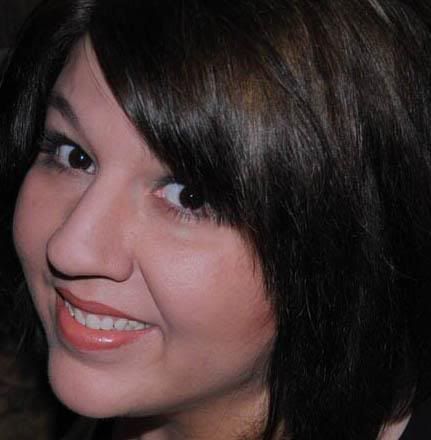 Lacey Weatherford was born in Ft. Meade Maryland while her father was serving in the military. She has been a life long resident of Arizona, spending most of her time growing up in the small rural town of Clay Springs.
It was while she was attending the small country school in Clay Springs, that she read her first "big" book at the age of eight. It was a Nancy Drew novel and Lacey was instantly hooked. She read every book that she could find in the series and decided that she wanted to write stories too.
Lacey spent a lot of time at the library from that time forward, even volunteering in her later teen years and early twenties. She would don a crazy clown outfit for the Friends of the Library fundraisers in an effort to help get the new town library built.
When she and her husband moved away from the area, Lacey took the opportunity to take some creative writing classes at the local college to help further along her interests. Several years later, they were blessed with the opportunity to move back to Clay Springs with their family. The town had finally succeeded in building their library and Lacey had the opportunity to be President of the Friends of the Library for a very short time, before relocating.
Lacey and her family still live in the White Mountains of Arizona, where she continues to write young adult novels that have a fantasy/fairytale or paranormal bent to them, as well as being sure to include a great romantic storyline!
Find her
here
.
The Trouble With Spells Now Available!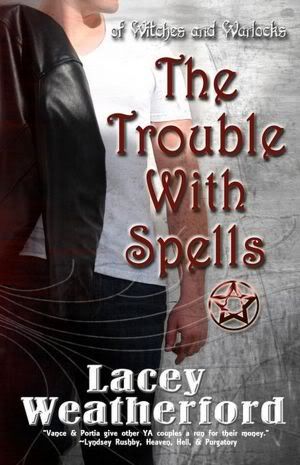 Portia Mullins had always lived the life of a normal teenager, up until her sixteenth birthday. She is then informed by her grandma that she is actually a witch whois a descendant of a long line of witches and warlocks. After overcoming her disbelief she finds that being a member of the coven comes with one great perk in the form of the school's handsome bad boy, Vance Mangum. Vance and Portia have an immediate connection as a budding romance begins, only to be threatened by turbulent skies on the horizon as Vance's checkered past rears its ugly head to haunt them. Portia is forced to use her untried powers in defense of everything she loves in a desperate attempt to hold on to the one thing that really matters in her life.