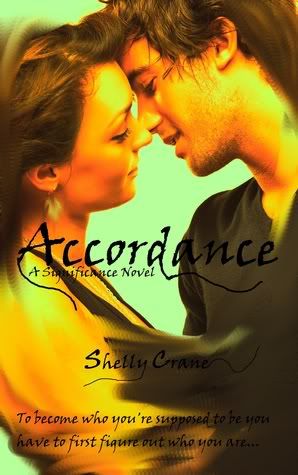 Recap:
Having survived her first encounter with the Watsons, Maggie now discovers that she'll need to face all of the Virtuoso clans, in a way she never could've expected. With new family challenges and her new role to fill, Maggie will struggle with the stress, and cling to Caleb more than ever as threats draw nearer.
Title: Accordance
Series: Significance
Book #: 2
Author: Shelly Crane
Approximate Book Length: 305 Pages
Recommended Reader Age: 16+
Sexual Content: Mild
Thoughts:
An excellent sequel! We pick up right where we left off in the first book, and just as Maggie and Caleb are beginning to enjoy a taste of independence, they're thrown another curve ball, making the family rush to their side once again. This wouldn't be such a problem if Maggie could control her powers, and if she didn't have to keep hiding from her human brother. On top of that, Maggie and Caleb get an unexpected visitor. Armed with the information that they're not as safe as they thought, Maggie and Caleb, along with their family, anxiously await the reunification meeting just days away. Before they can get there though, shit hits the fan, and now there truly is no going back an no easy way out. That doesn't even include the cliffhanger ending.

With her usual wit and ease, Shelly Crane has led us through the next chapter in Maggie and Caleb's journey. Along with the expected comedy, sweetness, and danger, we even get a bit of steam *grins*. We get to watch as Caleb and Maggie grow as people, and as a couple, and we're once again left clamoring for more!
In Conclusion:
A fulfilling sequel to the first novel, Accordance brings us even closer to our couple as they struggle to find their place in life, while still maintaining their semblance of self. If you enjoyed the first book, this one is a necessity!
Rating:



Links: