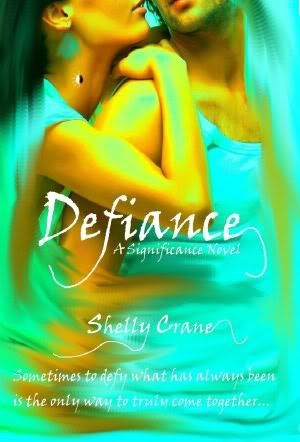 Recap:
Now facing the Virtuoso council, and with problems piling up around them, Maggie and Caleb struggle to keep Maggie's father and brother safe while remaining stuck at the reunification. Peter and the rest of Caleb's family stand at their side as they all fight a corrupted council, try to thwart whatever is up Marla's sleeve, and help do everything in their power to save Maggie's family. Then, seemingly out of the blue, Maggie and Caleb get the shock of their lives from an unlikely ally.
Title: Defiance
Series: Significance
Book #: 3
Author: Shelly Crane
Approximate Book Length: 281 Pages
Recommended Reader Age: 16+
Sexual Content: Mild
Thoughts:
In this third installment, we pick up right where we left off in book two; with Maggie, Caleb and the Jacobsons standing among all of the Virtuoso clans and the council staring them down. As daunting as that in itself is, things just seem to go from bad to worse as the council, which includes a power happy Watson, gets upset over the evidence that Caleb and Maggie have mutualized, despite the fact they're imprinted. They try to separate them. Then there's also the stunts that Marla's pulling, which include a subtle attempt on Maggie's life, and arranging a threat to Jim and Bish, who are too far away for Maggie to do anything to help them. The cherry on top is a visit from Maggie's real father.

I found that this story had a slightly different atmosphere about it than the last two. I'm not saying that's good or bad, just different. We get a couple of highly anticipated resolutions, but the ending with the council feels a little anticlimactic. That being said, we still get lots of the sweetness from Maggie and Caleb, comedy out of Gran, and loyalty from the Jacobsons that we've come to expect from Shelly Crane.
In Conclusion:
Our beloved couple finds many truths, faces many foes, solve a mystery or two, and unfortunately learn that Fate is sometimes diverted in this chapter of the Significance Saga. If you're following the series, I doubt you'll be disappointed! I also read that Independence will be the final book, and while I hate to see it end, I can't wait for the wedding!
Rating:



Links: