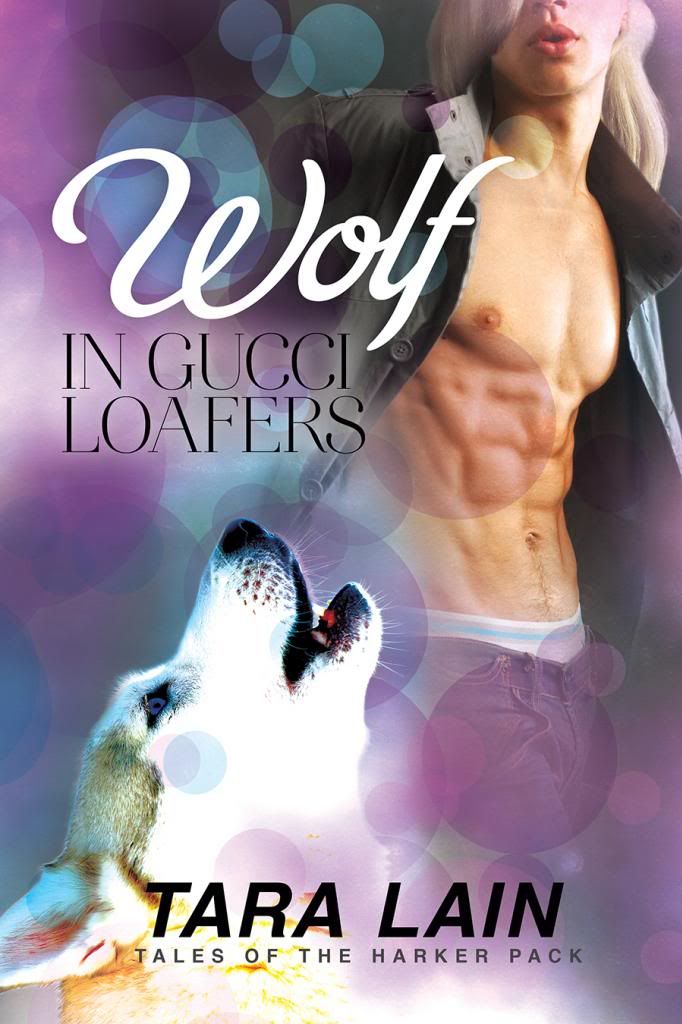 Summary:
Socialite Lindsey Vanessen wants someone to love who will love him back—an impossibility for a gay, half-human, half-werewolf. Too aggressive for humans, too gay for wolves, and needing to protect the pack from human discovery, Lindsey tries to content himself with life as a successful businessman. But when someone starts kidnapping members of wealthy families, Lindsey meets tough cop Seth Zakowsy—the hunky embodiment of everything Lindsey wants but can't have.

Seth has never been attracted to flamboyant men. What would the guys in the department think of Lindsey? But intrigue turns to lust when he discovers Lindsey's biting, snarling passion more than matches his dominant side. It might mean a chance at love for a cop in black leather and a wolf in Gucci loafers.
Title: Wolf in Gucci Loafers
Series: Tales of the Harker Pack
Book #: 2
Author: Tara Lain
Approximate Book Length: 174 Pages
Recommended Reader Age: 18+
Sexual Content: Explicit
Thoughts:
Tara Lain does it again with another exciting sequel! The characters are still so vivid and I fell in love with them both. The chemistry between Seth and Lindsey is tangible and they are just so sexy. I absolutely loved their development throughout the plot with every obstacle put in front of them.

Though we're not so much among the pack as we are in Lindsey's life which has been pretty separate from the pack itself, it's very much about the pack and it plays a big part in Lindsey's mind and the ending of the story as a whole.

While this can be read as a standalone story, I definitely recommend reading book one first. It's just easier to follow along with some of the pack politics that come up sometimes and this story does reference some events from the previous one.
Bottom Line:
Wolf in Gucci Loafers kept me enthralled from beginning to end and has me forever invested in the series. I look forward to more from this pack and these characters, especially since we're also introduced to a couple new people and I want to see how they progress in the series. Seth and Lindsey in particular left me wanting a pair of them for myself!
Rating:



Links: