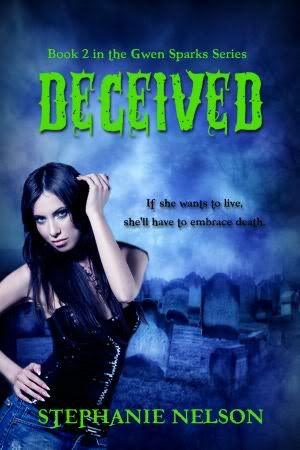 Recap:
Gwen's just getting back to normal after the vampire drug, Brew, nearly took her life and enjoying life with her boyfriend, Aiden, when the North American Witches Council summons her to their city. As a war between the witches and vampires is imminent, Gwen will find herself the pawn in everyone's plans. The sexy Angel of Death, Dorian, comes around to help her learn her gift, but will she learn fast enough and be strong enough to fight back when she finds out just what it means to be deceived?
Title: Deceived
Series: Gwen Sparks
Book #: 2
Author: Stephanie Nelson
Approximate Book Length: 227 Pages
Recommended Reader Age: 18+
Sexual Content: Moderate
Thoughts:
The story focuses on the witches and the vampires exclusively this time as a war is brewing between the two races, and pays specific attention to the role Gwen is to play in that war. She struggles to balance her trust issues, boy problems, war training, and training in her Spirit Walker gift. Not to mention her struggles with her bond to Ian that we discovered at the end of the last book.

Despite a few editing errors, the book was interesting and thrilling as Gwen wades through the complex situation she's found herself in. I didn't relish walking in Gwen's shoes during Ian's attacks, but I get how the experience was integral to the story as it drove Gwen's actions, decisions, and behaviors. Overall it was an enjoyable read.
In Conclusion:
I enjoyed this chapter of the Gwen Sparks series even more than the first, and it had me turning the pages late at night just to find out how Gwen would get out of this mess and find the answers to all the burning questions. Don't miss out on the excitement!
Rating:


Links: