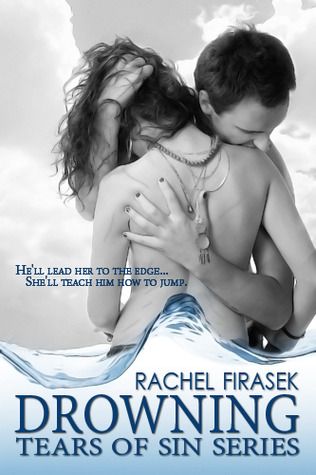 Summary:
"I dare you."

Those words would change adrenaline junkie, Alice Harrison's life forever. She's a party girl that doesn't believe in love until she meets a man that only writes about it.

Seth James escaped his overbearing father and moved into one of the James family's vacant condos, hoping to create the music he loves in peace. But the fragile calm he's envisioned shatters when a tiny woman with a world full of energy bounces out of the elevator and nearly takes him out.

With the patience of a saint, Seth seeks the dark that keeps Alice from enjoying life. He challenges her to exorcise the demons in her past in order to discover the true meaning of love. But when the walls fall down, the hidden deceptions will bare the ugly truth about a woman drowning in sorrow and a man who may not know how to be her hero.

*Drowning is a New Adult Contemporary Romance suited for 18+ due to some violence, language, and sexual content. Please be aware that this book is not for the faint of heart. It deals with real issues of getting pass abuse at the hands of a sadist. This is a stand alone novel in this series and does have a HEA.*
Title: Drowning
Series: Tears of Sin
Book #: 1
Author: Rachel Firasek
Approximate Book Length: 263 Pages
Recommended Reader Age: 18+
Sexual Content: Explicit
Thoughts:
This was a good read. I agree with the warning – it's a dark and twisty book. I like the James brothers and their bandmates and I like Alice, but had mixed feelings about Molly for most of the book. I want more from the bandmates, but this is Seth and Alice's story, so I'll focus on them. Alice's family is just…absurd. I don't know how she kept going. Seth's life hasn't been easy, don't get me wrong, but I just didn't feel like it was THAT bad. Maybe that's just because of Alice's history, I don't know.

As for the abuse that's mentioned – it's horrific. It's not quite what you might be expecting, but it is absolutely horrific. My only problem with it is that maybe I'm naïve, but I just can't imagine that level of abuse to someone going on for so long – politician or not. Several people knew and it was reported when she was a child. Things like that aren't written off without investigation. Again, maybe I'm just naïve.

That issue didn't ruin the story for me at all though. I liked watching the evolution of Seth and Alice and the climax was pretty good. I really enjoyed the conflict resolution and adored the ending. I will definitely be looking forward to book 2!
Bottom Line:
Drowning is a story that will tug at your heartstrings in multiple ways, but will leave you with a smile and looking forward to the next installation of the new series. Don't miss out!
Rating:


Links: