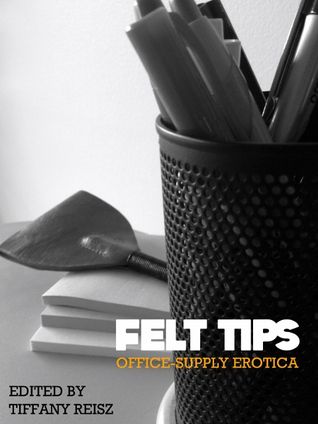 Summary:
Shoshanna Evers, Kelly Jamieson, Karen Stivali, Karen Booth, and forty other authors share their office-supply-inspired fantasies in Felt Tips, an eclectic anthology of erotic literature. This collection is edited by bestselling author Tiffany Reisz, who contributes "Teacher's Pet," a brand-new Original Sinners short story. All proceeds from the sale of Felt Tips will be donated to an organization that helps struggling schools supply their classrooms.
Title: Felt Tips
Series: N/A
Book #: N/A
Author: Sandra Bunino et al.
Approximate Book Length: 346 Pages
Recommended Reader Age: 18+
Sexual Content: Explicit
Thoughts:
There are so many stories in this anthology that I couldn't possibly touch on all of them. I got it because it had a contribution from Sandra Bunino, and I love her work. As with any anthology, especially of this size, there will be some stories that you'll love, that you'll like alright, and some that just aren't quite your taste or that just don't "do it" for you. That's how I felt about this book. There were a few stories that I really liked – causing me to look up some new authors – and some that I couldn't even finish because they just weren't for me.
Bottom Line:
Here's an anthology with a little bit of everything themed around some type of office supply from a marker to a desk chair. It's worth checking out for the gems and easy enough to skip what doesn't tickle your fancy.
Rating:


Links: