I found Casea Major by reviewing
Night with a Dom
for The Forbidden Bookshelf. We got to talking and now I've had the pleasure of reading and reviewing her other works,
One Knight in Brooklyn
and
Pinocchio Syndrome
, and more importantly, finding a new author I'm happy to call a friend. Please help me welcome her here today as she talks about her roots in romance. *cheers*
*****************************
My Romantic Roots – 1980's Soap Operas
Buffy, thank you so much for giving me time and space. I'm excited to be here.
Today, I want to pay homage to the romance genre that, for me, started it all.
When I was a girl, my sister and I spent summers as latch-key kids. We woke each weekday morning at 10:30 or 11:00 a.m. (How we slept that late I'll never know.) The first thing we did was turn on the TV with a press of a button
on the actual television set
and tune in to
The Young and the Restless
at 11:00, followed by
All My Children
at 12:00,
Days of Our Lives
at 12:30,
One Life to Live
1:00,
Another World
1:30 and
General Hospital
at 2:00. At 3:01 p.m. we would scramble like hell to clean the house and do our chores before Mom and Dad came in from work at 5:00.
All day long we engrossed ourselves in soap operas. Some of which overlapped. Without the benefit of Tivo or even a video recorder in the early days, it could be a true dilemma with far reaching consequences to decide which show to watch. What if Hope had gotten shot the day before on
Days of Our Lives
but Jessie was professing his love to Angie on
All My Children
. How could you choose?
These were the glory days of daytime television with an abundance of heroes to go around.
Does anyone remember Rick Springfield as Dr. Noah Drake, or Michael Damian as Danny Romalotti? What about Jack Wagner as Frisco Jones, John Stamos, Peter Reckell, Peter Bergman…etc.?
These guys were my first introduction to romance, and they were excellent teachers. In fact, now when I need a great hero name or a mental picture of a character, I check the ranks of daytime television. Not always the best actors but certainly some of the prettiest. I still smile when I think of Steve "Patch" Johnson calling Kayla "Sweetness" or a leather-clad Bo Brady with Hope in a wedding dress on the back of his motorcycle after saving her from marriage to the evil Larry.
Sadly, the daytime serials of years past are fading away as reality has set into the minds of the American population. Fantasy and romance are no longer in vogue. Snooky and The Situation take focus over The Quartermain and Horton Clans. My beloved soap operas are a dying art form. Many have been cancelled and more are in jeopardy.
In truth, I haven't watched soaps for decades, but I do revisit those tantalizing nineteen eighties hay-day plotlines for inspiration. I fondly reminisce over favorite couples and kisses, and revel in the unbelievable twisting plotlines that stretch the suspension of logic passed imagination. I mean how many long lost kids, mothers, sisters, lovers, brothers can one person have? Stefano DiMera has died and been resurrected so many times he makes Jason from the
Friday the 13th
franchise and Michael Myers of
Halloween
fame look like lightweights.
But the true staple of these stories was the romance—the heart-pounding, knuckle-biting, will-he-kiss-her suspense that is the essence of our addiction. The soap opera more than any other medium had the ability to capture epic romance that literally spans decades. This addictive romantic core is what enthralls and drives us romance lovers to read, watch, and write new stories.
Thank you, daytime TV, for the hours of guilty entertainment and education in the art of romance. May my own work strike as definitive a chord with others as yours has with me.
So tell me – Where are your romantic roots?
All my stories can be found on Amazon, Barnes and Noble and All Romance e-books.
Pinocchio Syndrome
- My irreverent, erotic retelling of the Italian Fairytale, Pinocchio. Is FREE right now on
Barnes and Noble
!
*****************************
About the Author
I am a full-time writer living in the Texas heat. Heat is good inspiration for what I write. I love a good romance but I want to feel satisfied when I'm finished reading. Happy endings are a given but there's nothing I love more than a hot love scene. I don't need bodily fluids gushing or running down anything –YUCK but I love to feel the rush of a good old-fashioned sex scene. You know the kind they used to show on Daytime television — naked between the sheets, in the tub of never ending bubbles or on a beach. Where the woman finally finds her voice and says "Make love to me." and the man obligingly fulfills her request.
That's what I'm talking about. If you like that too then chances are you'll like my stories. Take look and let me know what you think.
You can find me at my
blog
, or any of the following places:
Facebook
,
Goodreads
,
The Romance Reviews
,
Manic Readers
, or
Amazon Profile
.
Pinocchio Syndrome Available Now!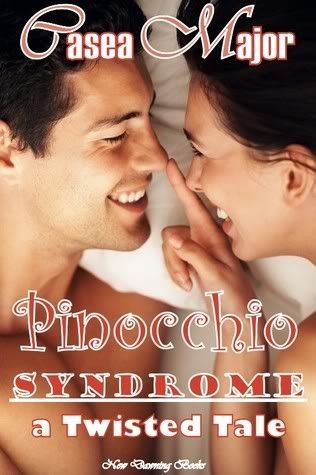 Wiseguy Chio Pino is assigned to protect the mob boss' daughter, but she wants more than his protection. With her cleaver-wielding father on his ass, Chio's problems are growing like his dick when he lies. Can he resist her advances, or will he lose his man part and his heart?