REVIEW: Off the Shelf by Lucy Felthouse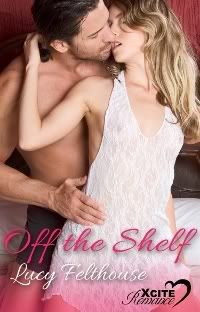 Recap:
Annalise is tired of hearing her mother tell her she's stuck "on the shelf". A busy travel writer, she doesn't have time to date and her one night stands she occasionally finds along her way certainly don't lead to anything more. She wants a man that can satisfy her mind as well as her body, but fears she'll never find him. At the bookstore she frequents, she meets Damien – a smart and gorgeous booklover and sweet tooth. Annalise fears rejection, and Damien's shy, so despite their immediate chemistry, they seem to be doomed to remain forever on the shelf.
Title: Off the Shelf
Series: N/A
Book #: N/A
Author: Lucy Felthouse
Approximate Book Length: 65 Pages
Recommended Reader Age: 18+
Sexual Content: Explicit
Thoughts:
I actually kind of loved this story, and I loved that a bookstore was Annalise's stress relief (I can sympathize). Damien seems like such a sweet, sexy book nerd and Annalise seems half her age when faced with him. They best part is that they seem so normal. He's not some ripped romance novel cover model, and she's not some stick thing supermodel either.

The genuine attraction between them is innocent and builds periodically rather than being an instant shared lust. It's a slow, sweet, realistic progression that had me swooning. I didn't like Annalise's attitude of just wanting to get laid while away regardless of her affection for someone else, but thankfully she gets over that quickly, and I grinned like a fool at the same time Annalise lets out a girly squeal as a simple message from Damien sowed the seeds of potential between them.

The bottom line here is that it's a very relatable book. Two people meet, feel an instant chemistry as they find common interests, and decide to see where it can lead, despite their fears of screwing it up! Haven't we all been there?
In Conclusion:
This was an adorably journey of two people exploring an attraction that could mean so much more for them. It's like reliving your first love as a teenager, but with an adult edge. It's a sweet, sizzlingly sexy, and thoroughly enjoyable read!
Rating:



Links: