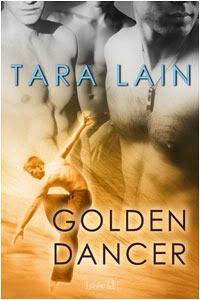 Recap:
Mac is obsessed with a story he's working on gathering evidence for, accusing billionaire Daniel Terrebone of stealing a priceless statue. It would be the breakout point for his career. Then he meets ballet star Trelain Medveyev and he finds he's not as straight as he thought. When Trelain gets mixed up with Daniel, Mac rushes in to rescue him, finding a passion between the three of them that surprises them all instead. Mac struggles with guilt over his story when he loves the man he's about to ruin. How can he choose between the story of his career, and the loves of his life?
Title: Golden Dancer
Series: Dangerous Dancers
Book #: 1
Author: Tara Lain
Approximate Book Length: 189 Pages
Recommended Reader Age: 18+
Sexual Content: Explicit
Thoughts:
I had a little trouble keeping up with who's who (mostly surrounding Mac's story on the theft of the statue), but that clears up pretty quickly. Once that's worked out, you realize the kind of dilemma that Mac faces as this new relationship gathers momentum, making for heaving emotional investment. It also keeps you guessing about what really happened and how they're all going to get out of the mess they created. Tara Lain always weaves a strong story among a steamy romance, but this one definitely feels the darkest in terms of conflict and the most intricate with several players to keep track of.

I think the best part of this story – besides the growing relationship between Mac, Trelain, and Daniel – is Mac's sexual exploration. He's always been straight, so this foray into the world of gay relationships is completely new to him. It's all the sweeter watching him lose his "gay virginity" as they put it, because Trelain and Daniel are so careful yet encouraging with him. The three of them are just so cute together! They're best when facing the parents though *grin*.
In Conclusion:
Golden Dancer is a tale of intrigue, exploration, friendship, and family. You'll laugh out loud (a lot), you'll cry, and you'll swoon, especially at the grand ending. If you're a fan of Tara's work, this will easily climb to your top five favorites!
Rating:



Links: