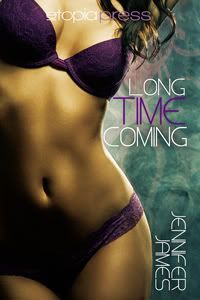 Recap:
Coming home for his sister's wedding has been nothing but a hassle, landing him in a twin bed much too small for him at his parents' house just down the hall from Joey – the girl he's had a crush on for the last ten years. They're both all grown up now in all the right places, and it turns out she's had a crush on him too. They decide to have a wild weekend with no strings, but what if Rob wants more?
Title: Long Time Coming
Series: N/A
Book #: N/A
Author: Jennifer James
Approximate Book Length: 61 Pages
Recommended Reader Age: 18+
Sexual Content: Explicit
Thoughts:
Whew! This book is hot from page one, and holds nothing back. There's a little bit for everybody in here: phone sex, anal sex, pool sex, public sex, a little domination, and more! For a little while I feared that it would be all about the sex, but while there's certainly plenty of that, there's also a romantic side to things and a fun, sweet family dynamic that comes into play.

Rob and Joey both lead busy lives married to their careers that are based very far from each other. They move forward with having this one wild weekend, but Rob wants more, but knows he can't have it. They both do. While their experiences over the weekend are scorchingly hot, it seems a little doomed from the start. I like my happy endings and this one ends too soon and with a slightly ambiguous portent for the future. I was left wanting…

Other than that, it's kind of fun reading a M/F story strictly from the hero's POV. It's a first for me, and I don't know why it seems so different from reading a M/M romance where everything is told from a man's POV, but it just does. Coming from a female author, I think it's pretty impressive that she could climb into a man's mindset.
In Conclusion:
If you're looking for a nice sexy read to get you all riled up before bed, or in the afternoon or even morning – whenever, Long Time Coming is certainly an excellent choice! It'll have you blushing at times (or at least it did me), but also laughing, and all kinds of hot and bothered. Don't miss this sizzling read!
Rating:


Links: