Scarlet Chastain has just released her debut story
Bella Key
, and she's here today talking about being a F/F erotic romance author. Welcome!!
*****************************
Thank you for having me on Buffy's Ramblings, BK!
Now that my debut f/f erotic romance is published, one of the most asked question I receive is why f/f?
The female/female dynamic intrigues me. Let's face it, women are complex creatures! Men are at an extreme disadvantage at knowing which buttons to push. Women on the other hand, don't need a manual. They know what their female partners want because they want the same thing.
I love writing emotions into my love scenes. The emotional level is kicked up to overdrive when both players are women because we need an emotional connection to feel aroused.
Bella Key is a story of one woman quest for happiness that happens to end in the arms of another woman. It's a love story first, a lesbian story second.
Maddie and Sunny's sexy story released May 3rd and my girls are already receiving a lot of buzz...
Harlie's Books gave it a "Recommended Read": "I can not tell you how much I loved Maddie and Sunny's story. Well written, sensual and sweet."
Love Books! said: "This taste of the ongoing party-like atmosphere of the Keys is making me want to take a vacation. I felt like I was about to step on the beach while reading. The romance between Sunny and Maddie was a joy to experience. I was rooting for them."
5 Stars from
Tattooed Book Review: Chastain does a beautiful job of creating the chemistry between two women. There's an easy friendship and connection, tinged with plenty of sexual longing and desire. It isn't long before Maddie and Sunny act on their growing feelings for one another, resulting in beautifully written, sensual and passionate love scenes.
Enjoy a little taste...
~EXCERPT~
Sunny walked toward the slim form sitting on a bench facing the water. The reds and oranges of the sunset played off Maddie's golden hair. Sunny's fingers itched to smooth a wisp of hair blowing in the early evening breeze. An overwhelming feeling of desire to wrap her arms around the woman, guide her head to her shoulder and stroke her hair while she whispered 'everything will work out' ran through her head.

"It's stunning, isn't it?" She nodded at the horizon when Maddie looked up. "I never get tired of watching Key West sunsets. Each one is different. I come down here a lot to think, or when I have a decision to make. There's something about the sunset that puts things into perspective." Sunny stared at the glowing orange sun disappearing into the wide expanse of sea. "Here, I brought you some more of the sweet tea you liked earlier."

Maddie took the glass from her, and the brush of her fingertips along the back of Sunny's hand sent her nerve endings on overdrive. Sunny leaned on the back of the bench, supporting her weight with arms. "I spent much time down here dealing with the same situation. My guy's name was Emilio."

Maddie's head cocked to the side. "Emilio? I thought you were—"

"A lesbian?" Sunny snorted. "I don't really think of it as liking one sex versus another. I'm attracted to the person, you know, what's inside. But, yes, since Emilio I've only been with women. Leaving him was hard. We met in college and he wanted to get married after graduation. Asked my parents and everything." Sunny chuckled, remembering the disappointment reflected in her mother's eyes when she told her they'd broken up.

Maddie turned and put her feet on the seat of the bench, drawing her knees to her chest. "What happened?"

"I'll tell you what didn't happen, chica. The world didn't end. Emilio found someone else and is happily married with a couple of kids. My mother not only got over the fact that l broke up with Emilio, but she accepts the fact that my goals in life aren't the same as hers. You see, those who really care about you just want to see you happy. What you need to figure out is what makes you happy."
*****************************
About the Author
Scarlet Chastain is the semi-secret pseudonym of a multi-published, best selling author of sensual erotic romance. Scarlet's focus is female-centric sizzling stories written about women, for women.
She lives in the suburban shadows of New York City but her heart belongs to the beaches of Key West. Scarlet can usually be found in her favorite chair of her newly acquired writing cave.
Find the author:
Website
Facebook
Twitter
Goodreads
Bella Key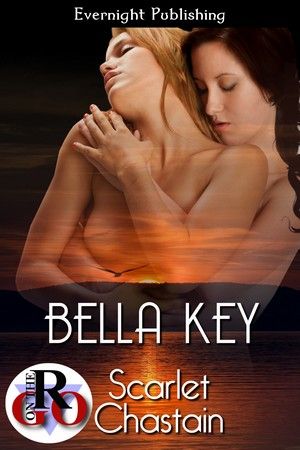 Maddie Jacobs must be crazy. At least that's what her mother thinks. Professionally, she's confident and secure; personally, she's a hot mess. Not even a marriage proposal from a man who adores her can quell her search for something more.

In need of an escape, Maddie flees to Key West's most southern island, Bella Key, to rest and recharge at Casa Bonita. She almost gives up on weekend retreat when the Bed & Breakfast is closed for repairs until Sunny Rojas, the inn owner, extends an offer of friendship, sweet tea and a room. Still reeling from a breakup with her longtime partner, Sunny is thankful for the diversion from her own broken heart.

The arrival of a fierce storm forces the women's emotional journey to a head and leads them into each other's arms. But can Maddie throw her hangups to the wind and go with her heart? The magic of Bella Key teaches her that passion cannot be placed neatly into boxes labeled right and wrong, because love knows no boundaries.