I'm ridiculously excited to have the awesome Dianne Duvall here again today, and she's sharing her idea for the cast of In Still Darkness, her story in the Predatory anthology that just came out! Give her a warm welcome and happy reading! :D
*****************************
Immortal Guardians Dream Cast
Thank you, Buffy, for letting me visit again! I'm very excited to be here today, celebrating the release of PREDATORY, an anthology that contains my Immortal Guardians novella "In Still Darkness," along with stories by fabulous authors Alexandra Ivy, Nina Bangs, and Hannah Jayne. "In Still Darkness" features Richart d'Alençon, a two-hundred-and-thirty-year-old immortal warrior who spends his nights hunting and destroying psychotic vampires. Despite the family atmosphere Immortal Guardians cultivate, Richart finds it to be a pretty lonely existence . . . until he meets charming single mother Jenna McBride. Unable to resist her lure, he daringly attempts to carry on a traditional courtship with her while keeping his vampire hunting profession — as well as his immortality — a secret.
If you're new to my Immortal Guardians series, Richart's story will give you a glimpse of what you'll find in the first three books — DARKNESS DAWNS, NIGHT REIGNS, and PHANTOM SHADOWS— as well as those that will follow. (DARKNESS RISES, Book 4, will be released on October 1st). All feature powerful immortal warriors with special gifts who have dedicated themselves to destroying the insane vampires who prey upon humans. Those of you who are already familiar with my Immortal Guardians series will finally "see" the romance that distracted Richart so and was referenced in NIGHT REIGNS and PHANTOM SHADOWS. You'll also see some familiar faces. One of the greatest perks, I think, of writing a series is not having to say goodbye to the characters with whom I spend so much time. :-)
Now, when I'm not writing, I work in the local independent film industry. And, as I help directors cast their feature film, short film, and music video projects, I admit I often imagine casting my own projects . . . namely film versions of my books. With each book's release, I rethink my dream cast, adding new characters and tweaking it here and there to tailor it to each story. So, here is my dream cast for "In Still Darkness" in PREDATORY:
Sam Worthington as Richart d'Alençon,
Hero of "In Still Darkness" — PREDATORY
Jennifer Garner as Jenna McBride,
Heroine of "In Still Darkness" — PREDATORY
Kellan Lutz as Sheldon,
Richart's Second (human assistant/guard)
Chace Crawford as John,
Jenna's son
Hugh Jackman as Roland Warbrook,
Hero of DARKNESS DAWNS
Michelle Monaghan as Sarah Bingham
Heroine of DARKNESS DAWNS
Eva Green as Lisette d'Alençon,
Richart's sister
Sam Worthington as Étienne d'Alençon
Richart's twin and Hero of DARKNESS RISES
Johnny Depp as Marcus Grayden,
Hero of NIGHT REIGNS
Milla Jovovitch as Ami,
Heroine of NIGHT REIGNS
Evengeline Lilly as Dr. Melanie Lipton,
Heroine of PHANTOM SHADOWS
Ryan Reynolds as Chris Reordon,
Head of the East Coast division of the human network that aids immortals



*****************************




About the Author
Dianne Duvall is the New York Times and USA Today Bestselling Author of the Immortal Guardians paranormal romance series. Her debut novel DARKNESS DAWNS was nominated for the RT Reviewers' Choice Award for Best Vampire Romance by RT Book Reviews, for Best Paranormal Romance - Vampire by The Romance Reviews, and for Best Book of 2011 by Long and Short Reviews. NIGHT REIGNS, the second book in her Immortal Guardians series, was declared an "utterly addictive" Top Pick by RT Book Reviews. PHANTOM SHADOWS, the third book in the series, was deemed a Top Pick by both The Romance Reviews and by Night Owl Reviews. DARKNESS RISES, Immortal Guardians Book 4, will be released on October 1, 2013.
When she isn't writing, Dianne is active in the independent film industry and once even appeared onscreen as a machete-wielding maniac not unlike the vampires she so loves to create in her novels.
Find the author:
Website
Blog
Facebook
Twitter
Pinterest
Youtube
Predatory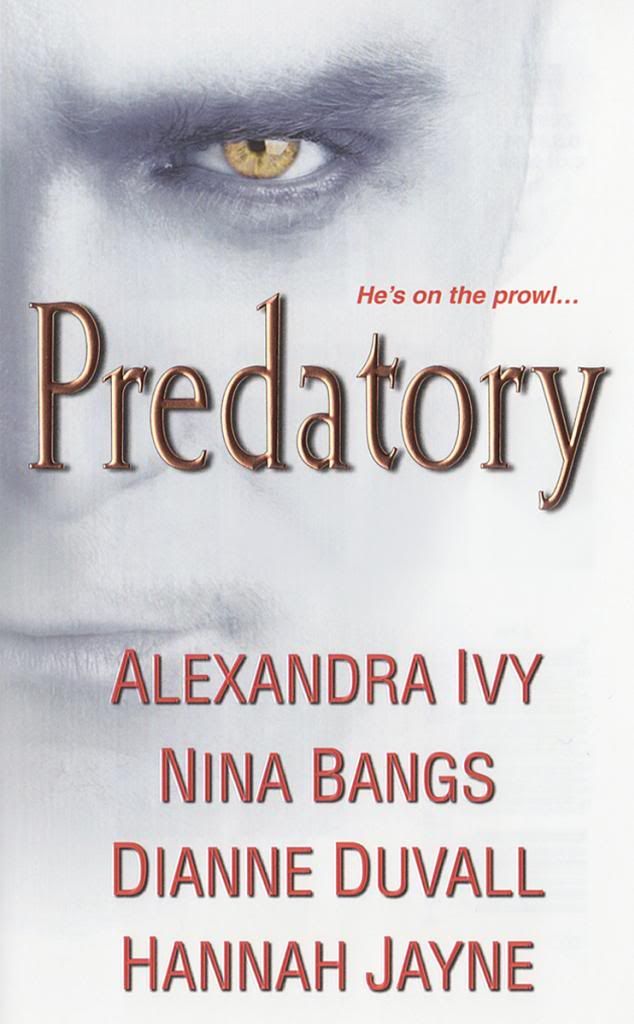 Four of today's most exciting paranormal authors take readers into the thrilling realm of vampires, immortals, and other supernatural beings with a thirst for illicit desire...

Out Of Control by Alexandra Ivy

Ph.D student Angela Locke has a crush on her sexy professor, Dr. Nikolo Bartrev. When she learns he's actually a Sentinel with extraordinary powers, she joins forces with him to catch a psychopath. But soon, their hottest pursuit is of each other...

Ties That Bind by Nina Bangs

Cassie Tyler agrees to sub for her friend at the funeral home where she works. But she gets more than she bargained for when a group of men attack her and a vampire comes to her rescue. . .

In Still Darkness by Dianne Duvall

Immortal Richart d'Alençon can't forget the woman who rewarded him with a sensuous kiss after he saved her from a trio of vampires. While Richart knows that loving a human can only bring trouble, the taste of forbidden lust is too great to resist. . .

High Stakes by Hannah Jayne

When vampire fashionista Nina LaShay's design contest rival is found dead, she's the prime suspect. Sexy photographer Pike is number two. He's the kind of man who makes Nina salivate. But will she have to reveal herself to have him--and to save them both? Or does Pike have a secret of his own?
***Up for grabs at this tour stop is a signed copy of one of the first three Immortal Guardians books plus some SWAG. Enter via the Rafflecopter below!***
a Rafflecopter giveaway