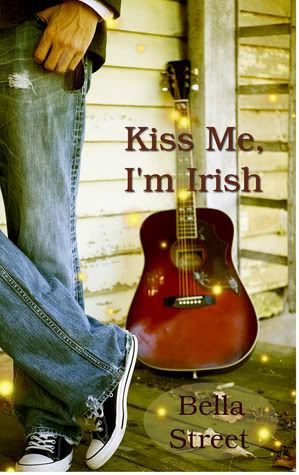 Recap:
Emily Musgrave is on her way to a convent for wayward behavior in the year of 1813, and finds herself displaced far from her intended destination. Liam Jackson is a struggling musician fighting the ghosts of his past in the year of 2011. With the meddling aid of pixie mischief, they might just find everything they didn't think to look for in each other and build a new life together.
Title: Kiss Me, I'm Irish
Series: Time for Love
Book #: 1
Author: Bella Street
Approximate Book Length: 3 Pages
Recommended Reader Age: 16+
Sexual Content: Mild
Thoughts:
Bella Street's tagline is "Romance with a touch of weird". I now fully understand why as it is so true. This was my first book by her, and it was such a fun story! Emily is from a time where kissing alone is gasp worthy and to show skin was scandalous, so to wind up in the present day where people where tube tops as skirts for crying out loud is an unimaginable culture shock for poor Emily. Liam has enough problems with a pesky little sister to keep in line and a flagging music career to get off the ground, so when he stumbles upon a foreign, and possibly damaged, young woman, he's hesitant to take her in. But in the heat of the moment, he succumbs to his sisters whims to bring the woman along.

Emily's forays into the modern world are laugh out loud funny and make for such enjoyment. Her innocence achieves this as well. Liam's inability to reconcile what he thinks is best with what his instincts tell him make for conflict that will have you wanting to reach right into the book and smack him upside his head so hard he'll feel it for a month. Throw in Tinker's snarky wit and you've got a c0cktail that keeps you laughing and guessing right to the end. The romance between Liam and Emily is so sweet and Tinker's encouragement only adds more sugar. The book in its entirety is pretty chaste for a romance novel!

I only had one problem. Sometimes the period speech was mixed between points of view. Certain terms would be found in Liam's passages that I would've expected from Emily's and vice versa, and therefore sometimes took away from the authenticity of the time travel element. However, it is easily overlooked so you can still enjoy the contrast of a 19th century girl with a 21st century boy.
In Conclusion:
Kiss Me, I'm Irish is a funny, sweet, and mystical read that's perfect for leisure reading. It also just goes to show that having a weakness for the Irish isn't necessarily a bad thing *wink*.
Rating:


Links: