Very active in the writing community, Lia Davis has one book out with several others in the works and is a part of the blog all about getting to know our favorite heroes, Heartthrob Haven, and the new resource for publishing and graphic arts, Fates Desires Publishing.
Lia is a new comer to the published ranks, and
Ravished Before Sunrise is her wonderful debut! I recently reviewed the book and enjoyed the characters so much I wanted more of them. Lia set me up with a little meet and greet so I could get to know them better!
Lia gets out of her car and takes in the beauty of the country home of Darian and Emalee Wyman. Sitting on what must be twenty acres surrounded by trees, the large three-story house stands immaculate with its wrap-around porch.

She climbs the stairs and sees Buffy sitting in a rocking chair next to the door. "Hello. It's beautiful out here."

Buffy stands and nods, taking in the vast landscape. "Yes, very." She motioned to the door. "Shall we?" The door opens before they could knock. Vampires.

A stunningly beautiful brunette stood in the doorway. "Hi. I'm Kat. It's so wonderful for you to come out. Please come in."

"Thanks for having us over." Buffy walks inside and Lia follows. The ground floor is open and large, allowing them to see ever all the exit points and the oversized kitchen to the far right corner.

"No problem. Make yourself comfortable. Ema and Dad will be down in a few." Kat rolls her eyes and turns toward the kitchen.

Lia snickers and sits on the sofa. Sitting beside her, Buffy whispers, "Does she mean they are…."

"They are newly mated."

"Well at least they're getting it out of their system."

Lia laughed. "I don't they will happen for a very, very long time. Maybe not in our life time."

Kat came back in with a tray of assorted meats and cheeses. She smiles as she sets the tray on the coffee table, showing the tips of her fangs. "And yes, they always lock themselves in their room."

Buffy frowns. "How did you know what I was thinking?"

"Kat is telepathic."

Kat clears her throat and sits in an arm chair across from them. "I try not to use it, but at home I forget to block out others. I can't read my father or Ema."

"Why is that?" Buffy asks, getting into interview mode.

"Not sure really. I believe it's because my father is a blood relative and Ema is bound to him."

Buffy pulls out a recorder. "Do you mind going first since we're waiting on the happy couple?"

Kat shakes her head. "Not at all."

"So what made you sign your dad up for 1Night Stand?"

Kat's expression saddens. "Dad was becoming more and more depressed. I'm old enough where I should have started my own family years ago, but I stay here and help run the house and the family business. I believe he thought he was holding me back, which is not the case. I have no intentions of hunting for a mate anytime soon. I had to do something to bring him back to the living."

"Do you often need to give him a nudge in the right direction?"

"Not normally. He's brilliant with business and technology, a strong leader and loving father. This was the only time I had to interfere. He's thanked me every day since." She replied.

"How do you and Ema get along?" Buffy asks looking towards the upper floor.

Kat smiles. "Ema is great. She doesn't try to be a mother, you know? From the first time we met, she offered friendship. Oh, and she loves to shop almost as much as I do. She's prefect!"

Buffy laughs. "I take it you're happy for the love-sick couple?"

"I am very happy for them. Sometimes it's a little much to be around, but I'm glad they have each other."

A creak on the stairs brings everyone's head around to see Darian descending the stairs wearing a pair of loose-fitting jeans and a black t-shirt, his dark hair hanging in damp strands around his handsome face. With a nod, he says, "Hello, ladies. Sorry to keep you waiting."

"No problem." Buffy and Lia says at the same time.

A few moments go by and Ema joins them, extending her apologies.

Buffy shifts her eyes away from the very noticeable, and fresh, bite marks on Ema's neck and asks Darian if he'd like to proceed with his interview. He nods and pulls Ema on to his lap.

"How has your relationship with Ema affected your life?"

"My lifespan has doubled. I'm happier, more focused."

"Does her half-breed status change anything in your lives?"

"We all had to make some adjustments while she learns to control her cravings, but she has incredible will power for a succubus." He says as he kisses Ema's cheek.

"I know you were intrigued with the scenario that brought you and Ema together, do you the two of you ever take time to have a have a little fun with a similar scenario?" Buffy asks sporting a naughty grin.

The left side of Darian's lips lifted in a wicked grin. "We are both predators. We love the hunt and the chase."

"In your scenario that first night, it was supposed to be about you hunting him, but he sort of ended up doing the capturing. Do you ever turn the tides so to speak?" She asks Ema glancing at Darian with a half smile.

Ema laughs softly and her cheeks turn pick. "There are times that I get the better of him. But truthfully I think he lets me win."

Darian scoffs. "I do not. I'm too competitive to allow you to win."

Ema rolls her eyes. "Fibber."

"How has life changed for you since mating a vampire and finding out about your abilities?" Buffy asks, chuckling at the bickering couple and attempting to redirect their focus.

"It was overwhelming at first, but Darian and Kat have helped me adjust in my new life. Most of all I don't have to hide from the paranormal council anymore."

Nodding, Buffy fires off another. "Have you gotten more comfortable with your abilities? Do you have better control?"

"Well my abilities have always been there. The only thing different now is my succubus half is awake and likes to play. I think being mated to Darian calms the sex demon a bit. At least the only one she craves is Darian."

Buffy smiles as Ema and Darian stare at each other in such a way as to make her blush. "So Lia, are you a full-time writer? Do you write to achieve a goal or just to let out the stories in your head?"

"I am not a full-time writer. I work in the finance department for a software application company. I write at night and on weekends. My goal is to be a full-time writer."

"Do you write only romance, or other things too?"

"Right now it's romance. I do have ideas for a couple of urban fantasies with romantic elements, but I'm not ready to write them just yet." Lia replies.

"How'd you arrive at Darian and Ema's story? Will we see more of their life? Maybe a story for Kat?" Buffy asks and winks at Kat.

"A couple of CPs from my critique group wrote 1NS stories. I read and loved them. They are short fun stories. So I set out to see if it was as fun to write one. And it was! As for a sequel? Hee hee. I think I remember Darian mentioning something about paying his daughter back for the wonderful gift she has giving him. :-)"

"How does your family like your work?"

"My family is proud of me. They may never read my books--because the men in my family don't read romance and my mom doesn't read paranormal. But that's okay. They support me and that's all that matters."

As Ema and Darian are whispering to each other, Kat, Lia, and Buffy all roll their eyes, shake their heads, or just plain look away and laugh quietly at the mushy couple.

"Well, it's been amazing meeting everybody, and thank you all so very much for talking with me." Buffy offers as she gets to her feet. Turning to Darian and Ema with a smile, she says "Keep having fun, it'll keep the spice alive." She sends them a big grin. "Kat, I hope you find the same happiness that your dad now has. And Lia, thank you so much for sharing their story and for your work. Keep it up, I look forward to more!" She says as she leans in to give Lia a hug.

"You are so welcome. Thanks for the interview and allowing us to share with your readers."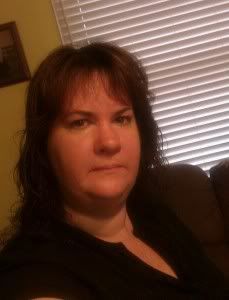 Lia Davis is a mother to two young adults and two very special, equally different kitty cats. She's a wife to her soul mate, who drives her crazy during editing/revisions. She and her family live in Northeast Florida battling hurricanes and very humid summers. But it's her home and she loves it!
An accounting major, Lia has always been a dreamer with a very activity imagination. The wheels in her head never stop. She only recently became serious about publishing her work and loves it more than she imagined. Writing is a stress reliever that allows her to go off in her corner of the house and enter into another world that she created, leaving the day job where it belongs.
Her favorite things are spending time with family, traveling, reading, writing, chocolate, coffee, nature and hanging out with her kitties.
Find her
here
, on
Facebook
, and on
Twitter
.
Ravished Before Sunrise Now Available!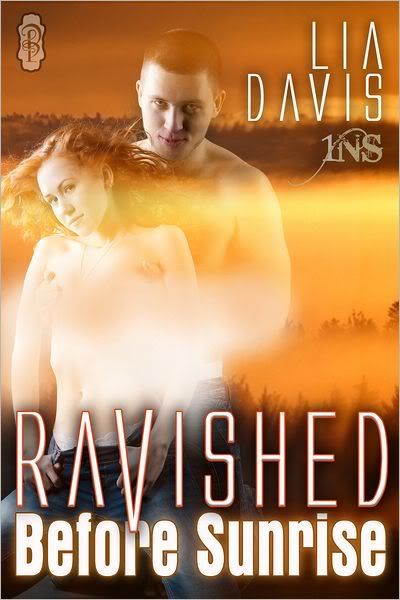 Born with the unusual ability to see what truly lies in the shadows, Emalee Black is stuck between two worlds, the paranormal and the human. Neither one accepts or understands her and she's forced to live a quiet, boring life in hiding. When her best friend mentions 1Night Stand dating service, Ema chooses a role-playing adventure straight out of her romantic fantasies. She's to hunt her very own vampire and have her wicked way him.
Vampire Darian Wyman is surprised when his daughter signs him up for a one-night stand with an exclusive matchmaking agency. At first he's appalled by the idea, but as he reads the details of the date, he becomes intrigued. For one night he will get away from the life he has long grown tired of to be hunted and captured by a would-be huntress. But he has plans of his own for his little vixen.
However, when Darian discovers the truth about Ema's inhuman abilities, the date could end before it gets started.