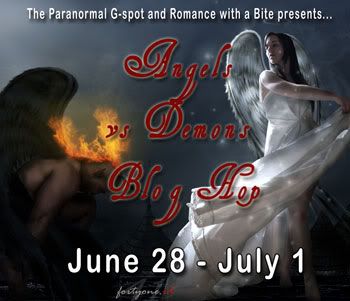 Welcome to my stop on the Angels vs Demons Blog Hop, hosted by
The Paranormal G-Spot
and
Romance with a Bite
! This is to celebrate Leia Shaw and Carrie Ann Ryan's newest paranormal romance releases in June in July. Carrie's book,
Dust of My Wings,
features an angel named Shade as the hero, and Leia's,
Destiny Bewitched,
features a sexy demon named Geo. Check them out, they're sure to be a little slice of heaven and hot as hell *grin*
So! Naturally this post should be completely centered around angels and demons. I debated over how to present it, and the options included: 1) talking about my own WIP, which is YA and centered around an "angelic" girl who will no doubt have to face her share of demons; 2) talking about whether I believe in angels and/or demons, though that might be a little too deep (bleh); and 3) talking about my favorite angelic and/or demonic heroes from books.
We're going with option #3 (though feel free to check out a little bit about my
WIP
:D)! So my favorite demon hero would have to be a tie between Jacob and Noah from Jacqueline Frank's
Nightwalkers
series. This series will also give you your shifters and vampires too, but it's the demons that I love -- sexy, sexy! Though, I do have to say that Siena is a pretty sexy female too...just sayin'! Recently I've read the Daughters of Askara series by Hailey Edwards, and I love her 3 demon heroes as well. As for favorite angels, I haven't read enough books featuring angels (yet)! I've really only read JR Ward's
Fallen Angels
series, which is good, but I can't necessarily say those are my favorite angels. However, Lassiter from
BDB
by JR Ward, which is where the
Fallen Angels
series spins off from, is certainly a contender. He gives a crap (maybe) but mostly he's a really sexy smartass, and psst...he doesn't need to sleep *wink*.
Moving on to the giveaway! I'm offering up a $5 Amazon GC. It's open internationally since it's electronic, so all you have to do is fill out the Rafflecopter below and you're golden. Once you've clicked in all the right places, click your way to the Linky list to keep hopping to all the other participating blogs!
***Also be advised that there are two Grand Prizes! One winner will receive a Kindle Touch and another will receive a $60 Gift Card to Amazon or Barnes & Noble. To be entered for the grand prizes, you MUST comment and you MUST leave your name and email addy in the comment as that's how the winners will be chosen!***
a Rafflecopter giveaway