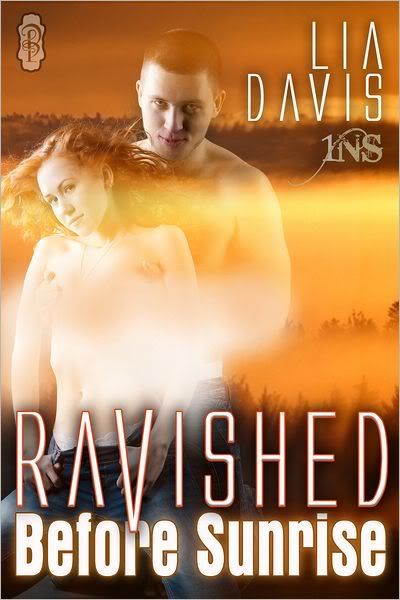 Recap:
Emalee Black is stuck between the paranormal and human worlds because of abilities that no one's ever been able to explain to her. Her best friend encourages her to try 1Night Stand to add a little excitement to her boring life, so she decides to design a little vampire hunting role-play experience. Having lost his mate a century and a half ago, vampire Darian Wyman has led a depressed existence that leads his daughter to sign him up for 1Night Stand as a surprise. He's appalled, but doesn't want to disappoint his beloved Kat, and becomes intrigued as he reads the details of his date. What happens when Ema and Darian get together is more than either of them ever expected.
Title: Ravished Before Sunrise
Series: 1Night Stand
Book #: N/A
Author: Lia Davis
Approximate Book Length: 31 Pages
Recommended Reader Age: 18+
Sexual Content: Moderate
Thoughts:
As with nearly all of the books in Decadent Publishing's 1 Night Stand series, this is a short little novella. With a lot of novellas, the plot can feel rushed and there's often a lack of character development. That's not the case with Ravished Before Sunrise!

You get a feel for the backstory for both Ema and Darian, as well as the world they live in without a problem. The chemistry, as well as the reason behind it, is present and steamy lending plausibility to the whole experience. They have a steamy, but comfortable and exploratory night together, that leads to a very sweet and satisfying ending. If this is a taste of what's to come from the author, I look forward to more of her work!
In Conclusion:
Lia Davis creates an interesting world with likeable characters in this quick, but enjoyable read that is sure to leave you wanting more!
Rating:



Links: