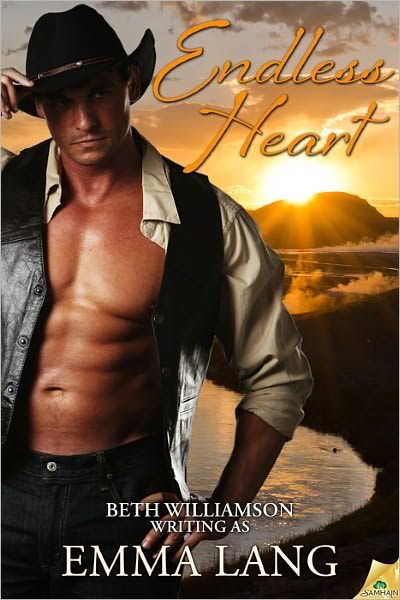 Recap:
Lettie Brown is content in the life she's built in the wake of violence. She escaped her brutal past and found a home working at The Blue Plate and printing the newspaper in Forestville, Wyoming. Then drunken stranger arrives at her feet and turns everything upside down. Shane Murphy is just a shell of a man destroyed by war, personal tragedy, and a whole lot of whiskey. He stumbles to the feet of a woman who will cause his life to take a sharp turn. They fumble through a relationship neither thought could or should exist, falling into emotions they both thought impossible, and find their attraction refuses to be denied. It's in each other that they both discover new life within themselves, but just as they're coming to terms with that, history begins to repeat itself putting them to the test with their very lives at stake.
Title: Endless Heart
Series: Heart
Book #: 3
Author: Emma Lang
Approximate Book Length: 183 Pages
Recommended Reader Age: 18+
Sexual Content: Explicit
Thoughts:
I don't normally like historical romances, but whatever it is that causes that, this book didn't have it. I actually enjoyed this story quite a bit and really didn't care what time period it was set in. It felt authentic and really focused on the characters.

There was a mystical factor that stays fairly mysterious without ever fully taking the mystery out of it which I liked because there's usually a full explanation in most stories which is helpful but sometimes takes the fun out of that part of the plot. This mystical factor really added the meant to be element and ties up the happily ever after which I always appreciate.

The hero and heroine are a breath of fresh, if not brisk, air. They both have tragic pasts that have left them damaged and not much fun to be around. It takes them quite a while to get out of their own way and open up to their loving sides. In fact I spent the first half of the book wishing I could smack Lettie, but remembering why she's so jaded really puts it all in perspective and just leaves you rooting for their joy as much as the supporting characters do.

Now here's the thing about this review. I normally don't post a review of a book in a series unless I've reviewed book 1. Yes this is book 3, and I've yet to read book 1 (though you can bet I'm gonna), but it's written in such as a way that it can stand alone and you still get the gist of what happened in the past two books whenever any references come up to past events. I won't lie, you can tell here and there that there were two previous books, but it doesn't make you cringe at not having read them first.
In Conclusion:
This historical western is full of compelling and lovable characters, mystery and intrigue, and action that will drive you to cheer the leading lovers on. Despite some tugging on the heart strings, Endless Heart was a pleasant read that made me want to read the rest of the series and more of Emma Lang's (aka Beth Williamson's) work.
Rating:


Links: