Beth Williamson is a romance author, writing both contemporary and historical romances. Most of her works are historical westerns, and I had the privilege of reading and reviewing her latest release as Emma Lang,
Endless Heart
. She's also opened up and shared a little insight into her thoughts behind writing the story. Please welcome Beth Williamson (aka Emma Lang) and enjoy a quick trip into her mind =)
*****************************
It's all about the Romance Y'all!
Before I'm a writer, I'm a reader. I love a good romance, curling up on the couch with a book, to dive into another place and time, another life. It's what drew me into reading romance novels in the first place. Being a writer, I found when I create a new story the most important thing is the emotions. If I don't feel the story, I don't enjoy it.
Now don't get me wrong, I love a comedy as much as the next person but I read a romance for the emotion and the love. I want to fall for the hero and for my heart to pound right along with the heroine's.
So when I was writing ENDLESS HEART, the third in the Heart trilogy, I started with my heroine. She's Lettie Brown, best friends with Angeline from RESTLESS HEART. Lettie has had a rough life – from an abusive father to an abusive husband, leaving her with a hard shell around her heart. She's a tough chick though, hard as nails with what most men would call brass balls.
The one thing she's not is soft and feminine. It just wasn't her. When she meets up with Shane Murphy, our hero, she finds herself remembering what it means to be a woman. She has hidden her heart for so long, falling for Shane is unexpected and unwanted. She doesn't want to have feelings for him—he's a drunk and in worse shape than she is. He had his own suffering ot overcome.
But it's about the romance, y'all. It's the unexpected that makes a romance what it is. In this case, it's two people putting aside their past hurts to see what's right in front of them. I don't know if I'd be strong enough, but Lettie sure is. Funny, I never realized that until I wrote that. LOL.
I fell in love with Shane even though he was a wreck inside and out. Finding his own feelings helped him overcome all that. It's the love he has for Lettie, the idea he's willing to change the course of his life because of what he feels for her. Oh yeah, it's about the romance y'all. And I love it.
*****************************
About the Author
Beth has always been a dreamer, never able to escape her imagination. It led her to the craft of writing romance novels. She's passionate about purple, books, and her family. She has a weakness for shoes and purses, as well as bookstores. Her path in life has taken several right turns, but she's been with the man of her dreams for more than 20 years.
Beth works full-time and writes romance novels evening, weekends, early mornings and whenever there is a break in the madness. She is compassionate, funny, a bit reserved at times, tenacious and a little quirky. Her cowboys and western romances speak of a bygone era, bringing her readers to an age where men were honest, hard and packing heat. For a change of pace, she also dives into some smokin' hot contemporaries, bringing you heat, romance and snappy dialogue.
Life might be chaotic, as life usually is, but Beth always keeps a smile on her face, a song in her heart, and a cowboy on her mind. Find her
here
.
Endless Heart Available Now!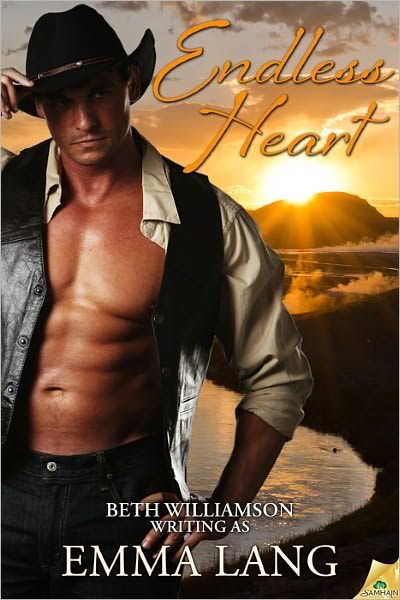 She's learning to live. He's forgotten how. Love will be their teacher.

Lettie Brown has lived in the shadow of violence. After escaping her brutal past, she's finally at home in Forestville, Wyoming, where she would live a normal life—if she knew how. She's content working at The Blue Plate and printing the town newspaper, if not happy. Then a stranger stumbles into her world and turns everything upside down.

Shane Murphy is a shell of a man, destroyed by the aftermath of the war, his personal tragedies and a penchant for cheap whiskey. When he lands, literally, on Lettie's feet, his future takes a hard right turn.

As they fumble through a relationship that should not have been, a deep love takes root, one that cannot be denied. Together they discover a bond as unbreakable as steel and as undeniable as life itself—until the past rears its ugly head and threatens the happiness they've found in each other.
***Are you a SWAG junkie? I'm giving 2 winners a Beth Williamson/Emma Lang SWAG pack that includes a SIGNED Endless Heart cover flat. Enter via the Rafflecopter below!***
a Rafflecopter giveaway