I'm sharing my review of Cover Him with Darkness today. Happy reading!
*****************************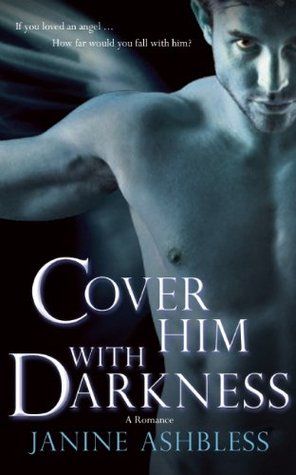 Summary:
In rural Italy, a priest keeps a dark secret beneath his chapel — a prisoner. Only the elder holy man knows who this prisoner is and even the priest does not know how long he has been there — hundreds of years, perhaps, or even longer. His fear is that anyone in his parish would ever come in contact with his mysterious and unholy charge. But what happens is even worse than he could have imagined. His lovely young daughter, whose innocence and devotion to god he prizes over all else, trails her father into the cavern and catches a glimpse of the prisoner, a beautiful being like the most handsome of men and yet not. She looks in his eyes and sees pain and wisdom and eternity. Unable to keep away from this silent creature chained to an altar stone, she lives in fear that her father will catch her. One day he does and sends her off to America to be raised by her aunt in Boston. But she never forgets her silent love. Cover Him with Darkness is a thrilling story of an archangel banished from heaven and the human woman with whom he falls in love.
Title: Cover Him with Darkness
Series: N/A
Book #: N/A
Author: Janine Ashbless
Approximate Book Length: 238 Pages
Recommended Reader Age: 18+
Sexual Content: Explicit
Thoughts:
The prose is beautiful. I thought the book was very well written. I love the mystery of who the prisoner is before it's revealed and the lore surrounding it. The story is very compelling and unpredictable. I will say that I was left with more questions than answers and I want to say it ends in such a way that it can only be the first in a series, but I've seen nothing to indicate more is coming.

While this is considered a romance, it's not terribly romantic. There's the fact that she loved him and he latched onto her as a light in the darkness kind of thing, but he doesn't treat her like he loves her. He treats her like a possession – like a toy. She doesn't always treat him spectacularly either, but his behavior is quite asinine. The "love" scenes don't really involve any love. They're rough and fevered and frankly saddening pretty much every time. That pretty much sets the tone for the entire book.
Bottom Line:
Cover Him with Darkness is a very well written story that keeps you guessing. Check it out if you want an interesting dark paranormal read!
Rating:

Links:
*****************************
About the Author
Janine Ashbless is a writer of fantasy erotica and steamy romantic adventure – and that's "fantasy" in the sense of swords 'n' sandals, contemporary paranormal, fairytale, and stories based on mythology and folklore. She likes to write about magic and mystery, dangerous power dynamics, borderline terror, and the not-quite-human.
Janine has been seeing her books in print ever since 2000, and her novels and single-author collections now run into double figures. She's also had numerous short stories published by Black Lace, Nexus, Cleis Press, Ravenous Romance, Harlequin Spice, Storm Moon, Xcite, Mischief Books, and Ellora's Cave among others. She is co-editor of the nerd erotica anthology Geek Love.
Her work has been described as: "hardcore and literate" (Madeline Moore) and "vivid and tempestuous and dangerous, and bursting with sacrifice, death and love." (Portia Da Costa)
Find the author:
Website
Facebook
Goodreads