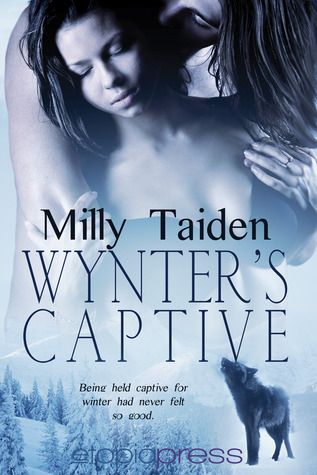 Recap:
Lili has a little mishap on her way to her cousin's wedding, and ends up held captive by a werewolf who makes her body respond like never before. Cade is a wealthy man and the pack alpha. In an attempt to abduct his ex-friend's fiancé, he realizes too late that he's got the wrong woman. This might work out better for him actually…if he can convince her to forgive his deceptions and keep her safe from his enemies.
Title: Wynter's Captive
Series: N/A
Book #: N/A
Author: Milly Taiden
Approximate Book Length: 78 Pages
Recommended Reader Age: 18+
Sexual Content: Explicit
Thoughts:
Steamy read! I enjoyed the wolf lore, and I like Cade's pack and Brandon and everybody, but I especially loved Lili. Her bond with Jay is sweet, her power over Cade is adorable, and she's just so strong, brave, independent, and resilient. I liked Cade a lot, though I did think his entire plan was completely asinine and I wanted to hit him for it.

I did feel that sometimes things went unaddressed such as things that if I were Lili, I'd be pretty angry about. I also felt that the romance might have been a little rushed, but there's that wolfy connection I love, so…

The villain is good and hateable, and he totally gets what's coming to him. That's a short, but tough confrontation and is definitely worth it. Overall it was a nice, easy read and I was left wanting more.
In Conclusion:
Wynter's Captive is a story of mistaken identity, family, friendship, and of course love – with some spice thrown in of course. Don't miss this story that will have you swooning!
Rating:


Links: