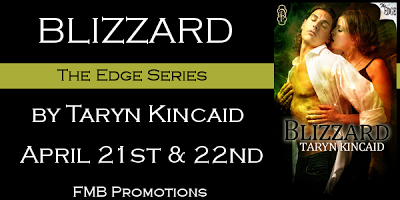 Thanks to FMB Promotions for hosting this
blog tour. I'm sharing my review of Taryn Kincaid's
Blizzard
. Happy reading!
*****************************
Recap:
Mandy ditches her work convention early in hopes of beating the incoming blizzard home to her family, but she doesn't win the race and the storm forces her off the road into a rest stop. Suddenly getting stranded doesn't seem so bad when she meets another refugee of the storm and attraction is instant and hot. Jack is intrigued by Mandy's proposition, but the wedding band on her finger gives him pause. Will they give in to the blazing chemistry they share?
Title: Blizzard
Series: The Edge
Book #: N/A
Author: Taryn Kincaid
Approximate Book Length: 23 Pages
Recommended Reader Age: 18+
Sexual Content: Explicit
Thoughts:
The beginning of this one was a little uncomfortable at first, but as they heat up, you totally get into it! The story is somewhat predictable, but I really didn't care. Jack is a nice guy trying to help Mandy out and Mandy is a frustrated woman in need of loving she can't seem to get at home, so they make sense and their chemistry is so great.

I really enjoyed the spontaneity in their behavior; they're at a rest stop, what are they gonna do? It was sizzling and sexy and undeniably steamy, but the real kicker was the ending. So flipping adorable you can only want more.
In Conclusion:
A short read, but enjoyable from beginning to end. Blizzard will warm you up on a cold night and despite the potentially taboo scenario that the summary describes, it's a very sweet romance with a splash of spice and would be an awesome story for right before bed!
Rating:



Links:
*****************************
About the Author
Taryn Kincaid lives in scenic Serendipity-By-the-Sea. (Go ahead. Try to find it on a map. If you do, Taryn will send you a smooch. Also a Nutter Butter.) She is an Olympic caliber athlete in egg rolling contests and spends a great deal of her time petitioning the U.S.O.C. to introduce fantail shrimp competition. When she's not bungee jumping off the Palisades or parasailing up and down the Hudson River, she devotes her time to caring for her aging pet walrus, arranging her voodoo doll-pin collection and practicing rhythmic chants. At this moment, she is busy picking up loose wholewheat spaghetti sticks that spilled out of the cupboard and onto her kitchen floor. Wait. Is that something…sparkly?
Find the author:
Website
Blog
Facebook
Twitter
Amazon Author Page
Blizzard
Mandy Malone ditches her pharmaceutical convention and the married male colleagues hitting on her to hurry home to her waiting family. But she doesn't bank on the blizzard that forces her off the road and into a deserted rest stop. When she meets another road refugee, their attraction is immediate and molten hot. Suddenly, getting stranded doesn't seem like such bad luck after all.

Although totally unprepared for Mandy's unvarnished proposition, Jack is intrigued by the erotic offer of a promising night of no-questions-asked sex. But when he notices the wedding band on Mandy's finger, will he forego the lure of a torrid clandestine affair, or give in to the fantasy of blazing hot sex on a wintry night?
***Up for grabs at this tour stop is an ebook from Taryn Kincaid's backlist and some SWAG goodies. Enter via the Rafflecopter below!***
a Rafflecopter giveaway