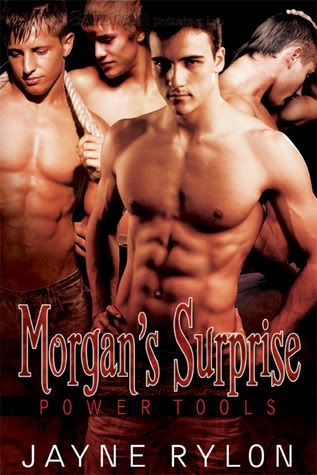 Recap:
Kate's best friend Morgan is about to celebrate her birthday, and when admitting to Kate that her birthday wish involves Joe from the crew helping to build her bakery, she didn't notice him enter the room behind her. This leads to a romantic date where they get to know each other better. Joe's determined to prove it's ok to seek pleasure by fulfilling a fantasy she was once forced to feel ashamed of. After making her into the main dessert on her birthday him and three of his crew, he finds he wants more.
Title: Morgan's Surprise
Series: Powertools
Book #: 2
Author: Jayne Rylon
Approximate Book Length: 63 Pages
Recommended Reader Age: 18+
Sexual Content: Explicit
Thoughts:
Having loved the first story, I was excited to continue the series and was not disappointed with the sequel! Morgan is Kate's best friend, and when Morgan blurts out her birthday wish, Kate has to help diffuse the situation by confessing her adventures with the crew. It's a small thing, but I love the girl talk between best friends, so I found that fun.

The first date is sweet and romantic, and I the drive home is a lot of fun. The next day is even better as she gets a birthday wish. The guys are cute as they try to surprise her, though it turns out a little differently than they planned in a delicious way. The best part is when she and Kate dish at the end, it's sweet to see Morgan recovered from a past hurt because of Joe and be able to share that with her friend who understands all too well.

My only problem with this one was that it felt a little rushed. In the first book, Mike eases Kate into things, but here it feels like her and Joe's relationship takes off so quickly and while he obviously didn't push anything on her, I feel like she was put a little on display a little quickly. BUT, she rolls with it so it's all in good fun and is still a very sexy, fun read!
In Conclusion:
A sequel to nearly match the blaze of its predecessor, Morgan's Surprise is a sweet treat. Romantic, funny, and sexy, it's definitely worth adding to your TBR list!
Rating:


Links: