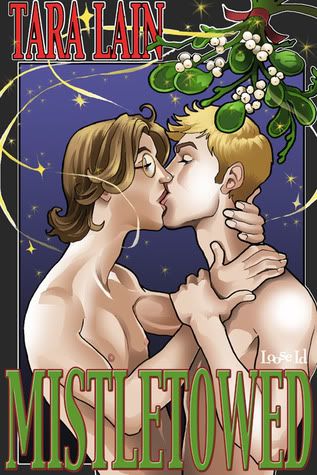 Recap:
Five friends plan a themed party, not having any idea how it will change them all. Christian has the perfect life, except the only time he's truly happy is when he's around his best friend, Jason. Melanie found everything she wanted in Christian, but she can't keep herself from cheating with her yoga teacher. Buttercup adores her life with Winston, but can't let go of her yearning for the BDSM life. A special piece of mistletoe will bring them and a couple new additions to the circle together and light up their misguided lives.
Title: Mistletowed
Series: N/A
Book #: N/A
Author: Tara Lain
Approximate Book Length: 92 Pages
Recommended Reader Age: 18+
Sexual Content: Explicit
Thoughts:
I was thrown a little at first, following so many different characters, but the main focus is on Christian, with all other storylines being pretty secondary. I liked that because Melanie's infidelity was a little uncomfortable for me, but ended up not having as big of an impact as was feared.

All of the characters thought they had everything they wanted (except Jason who was kind of just along for the ride as he pined for the lover he couldn't have), despite a feeling of something missing. Watching them all come to this realization was very interesting, but the best ones were Christian and Buttercup's exploration of their secret desires. They each experience some new and surprising things!

The mystical element was a tad strange, but that's explained in the end and made me laugh a bit. The bottom line for this book is that it takes a little Christmas magic to help all of these characters bring in a brilliant new year where they truly belong.
In Conclusion:
If you're looking for a little bit of everything (MM, MF, Menage, a little BDSM), look no further. Tara Lain delivers a heartwarming tale of self-discovery and true love that is not to be missed in Mistletowed!
Rating:


Links: