I'm a big fan of shifters in paranormal romance. I started out as a vampire girl, but shifters have begun to take over and be my favorite. More specifically, while I love all shifters, I'm a cat person. I came across a book about cat shifters that had good reviews. I read the first and loved it. I managed to connect with her via other blogs and Facebook and got a chance to read an ARC of
Mate Claimed
, which is book 4 in the
Shifters Unbound
series (the rest of which I'll work on getting reviews done for!). I'm so excited for more of this series and to share with you an interview Jennifer Ashley was kind enough to do for me. I found it so interesting, thoughtful, and informative and I hope you do too!
How did you come up with the concept for the Shifters Unbound series?
Driving down the street and seeing guys working construction by the side of the road. :-) They were four or five rather hot guys, and I thought: "What if they were shapeshifters?" (As you do).

Then I thought: "What if they're shapeshifters, all in one family, all bachelors, all living in the same house? Two brothers, the nephew of their deceased brother, and their dad?"

I went on to think about why they lived together, what kind of society they'd live in as shapeshifters . . . and the idea of the Shiftertowns, why Shifters live there, how humans thought about them—their entire history—started to form.

I always begin my series with the characters. I see people in my head (usually hot guys, hmm) , and they start doing things. Even before they have names, I know their faces, their pasts, their relationships with others. And then I start to build the books. I usually have enough material for 2-3 books at that point. More stories suggest themselves as I write those books, and so it goes.

You seem to have found a perfect balance of fun, action, and romance both sweet and sensual. Did you struggle with finding that balance as you were writing?
First, thank you! Second, I have to say no, I don't struggle with that balance, because that's just how the story comes to me. I can't write too much angst before one of the characters says or thinks something funny. They do it without my say-so!

What I do struggle with is making sure scenes aren't too choppy or don't run on too long, making sure I don't have too many paragraphs of a character's inner dialog or a scenic description--meanwhile the reader is nodding off—and making sure each scene is interesting and intense in its own way. If a scene or a paragraph is there to be pretty, and it does nothing for the story, it gets the ax.

I'm also hard on myself for wording—the wrong word can change the entire tone of the scene.

So I do struggle, but with different things. I think every writer has things that come easily, and things that make them beat their heads against the wall.

While the series includes several different species of shifter, the wildcats seems to be prevalent. Which is your favorite breed and why?
The wildcats keep giving me stories to tell, but I'm having a hankering for the bears. Bodyguard, a shorter book in the series, is about Ronan, a Kodiak bear who's a bouncer at a bar and also a fighter. He also takes in bears that no other Shiftertowns want, so he has a motley collection of black bears, grizzlies, and a cute little polar bear called Olaf, all living in his house.

I just finished a novella about Nell, the bear matriarch who lives next door to Eric from Mate Claimed, and how she falls in love with a new bear in town. It's a sweet but hot story, which will be out in March in the Unbound anthology from Berkley.

I haven't written a story focusing on the wolves yet, but they're coming (Ellison's story and Graham's story). I'm looking forward to going wolf!

Do you have a certain number set for how many books will be in the series?
At this point, I have no idea. I've agreed to do more in the series for Berkley, and I'll do more of the shorter e-books as well. As long as I have Shifters to write about, I'll be writing about them. When I feel like it's time to wrap up the series, then I will. But I love the world, and want to stay a while.

You have a couple ebooks within the series. Is there any particular reason why they were released separately from the rest of the series?
I released the ebooks myself on Kindle, Nook, Kobo, All Romance Ebooks etc., with a POD print edition, because my full-length books were scheduled a with many months between releases. I feared that readers would have completely forgotten about the series (and I wasn't wrong, LOL). I decided to write and release Bodyguard, which is a shorter novel (not a novella), for 99 cents, both to tell a story I might not have time to tell otherwise, and remind people about the series.

That worked well (I sold tens of thousands of copies of Bodyguard, and the following novel, Wild Cat, hit the USA Today bestseller list), so I decided to do it again this year with Hard Mated, another e-novel (with a print counterpart) that I self-published.

Because the e-book world changes rapidly, I did not expect the same kind of success. What I didn't expect was that Hard Mated was even more successful. Hard Mated hit the USA Today bestseller list and stayed there for four weeks! This is a self-published novel! I was astonished.

Even more astonishing, the novel that followed, Mate Claimed, pubbed by Berkley, hit three lists—USA Today (#50), and two NY Times lists (ebook and ebook plus print).

So I have to say I'm happy I experimented with the e-releases, and plan to continue them.

I know you write under three different pen names. How and when did that come about?
I never intended to have different pen names. I didn't see the need for it. But when I sold a couple of romances to one publisher and a mystery series to another publisher at the same time, the publishers wanted me to take different names (Jennifer Ashley for romance; Ashley Gardner for mysteries).

I see now that it makes sense to take a different name for different styles of writing. My mysteries are very different from my romances (night and day), and that can be confusing and annoying to readers. On the other hand, it's a drawback, because most romance readers read widely across genres, and they don't always find the books under my other names.

I took the Allyson James pen name when I wanted to try my hand at erotic romance. I wasn't sure I could do it, and I didn't want a failure to affect my Jennifer Ashley name. Fortunately, the erotic romances did well (and the Tales of the Shareem series is one of my most popular, best-selling, on-going series), but now I have three names!

You have books in a couple different genres, but is there one that you favor?
I don't know if people believe me when I say I like them all, but I do. I write mysteries, urban fantasy, paranormal romance, historical romance at the moment. I love each for different reasons, and I'm excited when I get to change and write something different. I would probably have advanced in my career faster if I'd stuck to one (the most popular) series or subgenre, but I'd also probably be completely burned out from writing the same thing over and over again. Writing different genres keeps my life interesting and my writing fresh.

So how do you write? Do you lock yourself in a room for hours and clickety clack away, or have a little music going or something? Sit in your favorite coffee shop? What gets you inspired and in the groove?
I write every morning in a coffee house / bakery, where I can get a lot done—1000-2000 words written or a chapter or more revised. The rest of the day can get hectic, especially if I have to do a lot of promo or traveling or speaking, but I try to get in another couple hours a day writing. I sit on my couch (office chairs hurt my back), and work anywhere from another 2 to 8 hours, depending on what needs to be done. I do listen to music at the coffee house to drown out distractions—I love my iPod Nano. It plays music, and that's all I need it to do.

I get inspired by the act of writing—though not always :-). I also get inspired by reading, especially if I'm reading something wonderful. Reading great books makes me want to write. Going to concerts is inspiring too. I sit and let the music wash over me, while stories swirl in my head.

Do you have any advice for aspiring authors?
Don't give up. Pursue every avenue to reach readers (every legit avenue, that is—avoid scams that cost you upfront money, no matter what).

So many authors sign one contract or self-publish one e-book and sit back to wait for the money to roll in. It won't. Money takes a while to get rolling, and the only way it will roll is for you to keep writing, submitting, publishing (at a publisher or by yourself).

Everything you work on today will bear fruit in time. If you do nothing, you'll have no fruit.

Everyone wants to publish that one "hit" and be set for life, but the truth is, most of us never will get that one hit. However, a writer can have a wonderful and lucrative career writing books for readers who love those books, but you have to pursue it with drive and determination.

Learning the craft very, very well is essential, and learning how to touch readers with your writing is another essential. Don't wimp out on your storytelling—make it intense and satisfying. That way, you'll do well, no matter what is the "trend of the moment." Trends are fleeting. Good, solid writing lasts year after year.

I could be wrong, but I would imagine that when your first book came out, you probably got really excited for every good review. Do you still? Or do you mostly just focus on reviews for your most recent release?
I am astonished by the number of reviews my very first book had. I've noticed that the number of professional reviews for my books has dwindled as my career has advanced—I think that's because as e-books and e-book publishers took off, tons of books started to be published every month, and reviewers can only read so many.

That said, I'm very grateful to those who took a chance on my first book and said good things about it. I was convinced that no one on the planet would actually read it.

I'm still grateful for reviews, because review sites and blogs get the word out that a book has been released, regardless of how they feel about the book. I still get a buzz from great reviews, especially reviews of my older books—I'm thrilled that something I wrote ten years ago has reemerged to be special to someone.

Is there anything else you'd care to share? Maybe what we can look forward to next?
I have so many things coming up! In late November or early Dec (haven't hammered out the date yet) I'm going to release a short novel: A Mackenzie Family Christmas: The Perfect Gift. I'm doing this one on my own, revisiting the couples from the first four Mackenzies novels and introducing new ones.

After that, The Seduction of Elliot McBride comes out on New Year's Eve, book 5 of the Mackenzies series, set in Victorian-era Scotland. Elliot spent a year imprisoned in Afghanistan, and he's scarred both physically and emotionally. Juliana, left at the altar, asks her old friend Elliot if he'd step in as groom and save her from humiliation. Elliot, who's been in love with Juliana for years, says an enthusiastic yes!

As I posted on Goodreads, the story contains an old Scottish house, plenty of Highlanders, kilts, a steamy love story, Punjabi food, dogs, and a goat.

I've also just now released on my own the next novel in the Stormwalker series by Allyson James. Nightwalker is now out in print and e-book.

Next year, all five of my series will continue: Stormwalker, Shareem, Capt Lacey Regency Mysteries, hifters, and Mackenzies. I'm currently releasing something at least once a month (backlist books, short e-novels, or full-length books). I'm busy, but it's great!
New York Times and USA Today Bestselling author Jennifer Ashley has lived and traveled all over the world, and now lives in the Southwest. She writes historical, paranormal, and contemporary romance as Jennifer Ashley; mysteries as Ashley Gardner; and paranormal romance and urban fantasy as Allyson James.
Jennifer's/Allyson's/Ashley's novels have won RWA's RITA award, the Golden Quill, RT Reviewer's Choice awards, and the Prism award, among others. Jennifer's novels have been also been translated into nearly a dozen European and Asian languages.
Jennifer enjoys writing and reading above all else, but her hobbies include cooking, hiking, playing flute and guitar, painting, and building miniature rooms and dollhouses.
Find her
here
.
Mate Claimed Now Available!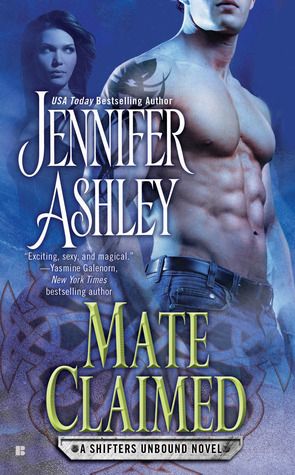 Collared and controlled, Shifters are outcast from humanity, forced to live in Shiftertowns. But waiting within are passions that no Collar can contain…

As a wildcat Shifter and leader of his Shiftertown, Eric Warden knows his own kind. When he sees Iona Duncan, he realizes that although she appears human she is a half-Shifter wildcat living without a Collar—and that if she doesn't acknowledge her true nature and her mating hunger, it may kill her…

Iona finds the mysterious and powerful Eric alluring, even though she has vowed never to reveal her Shifter side, lest her mother pay the price for hiding her all these years. But her mating hunger is rising, and with Eric so close, she may not be able to resist…and her desire may lead to the very doom they are fighting to deny…
***Want a SIGNED copy of Mate Claimed? Jennifer Ashley's been kind enough to offer one up to a lucky winner (US/INT)! Enter via the Rafflecopter below! ***
a Rafflecopter giveaway