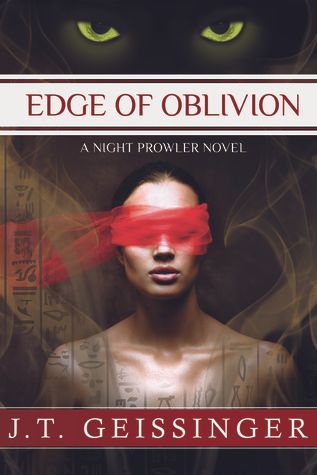 Recap:
Morgan's been labeled a traitor by her Ikati kin and now awaits her execution, but unexpectedly gets a small chance to earn her freedom. She must hunt down their enemies and destroy them for good, but she'll have to do so with an assassin babysitter. Xander is the Ikati's most loyal, trained, and feared assassin and he's now charged with accompanying Morgan on her mission and carrying out her sentence if she fails. She ignites something inside him, something he thought long lost, but that's just the beginning of the many unexpected obstacles that lie before them on this journey.
Title: Edge of Oblivion
Series: Night Prowler
Book #: 2
Author: JR Geissinger
Approximate Book Length: 410 Pages
Recommended Reader Age: 18+
Sexual Content: Moderate
Thoughts:
There's so much that happens in this story that just has you glued to the page. Xander and Morgan are incredibly compelling and my heart just broke for them repeatedly. I love the members of the Syndicate that are introduced. I am also intrigued with the idea of a newly discovered colony, though I have no idea where that might go in future books and I fear how things will go with who I suspect is the villain of book 3. I can't really say too much about the colony and the villain and all due to spoilers, so I'll just say, go read!

This book also definitely felt like it had a darker villain than book 1 (which isn't a bad thing!), though thankfully the worse of his transgressions occur "off screen". I am a little disappointed that we didn't get to see more of the characters we met in book 1 and what little we did see just didn't have the same feel. I did have a big hiccup while reading. There are some definite parallels that can be drawn between some things in this story and some things in the Black Dagger Brotherhood world by JR Ward, which frustrated me for a while until ultimately the differences presented themselves enough to satisfy me.
In Conclusion:
A truly exciting sequel with many twists and turns, Edge of Oblivion will have you laughing, crying, and hanging on every word. It'll have you up all night and wanting more!
Rating:



Links:
***Want to read Edge of Oblivion? JT Geissinger is offering up a signed copy to one lucky winner! Enter via the Rafflecopter below!***
a Rafflecopter giveaway