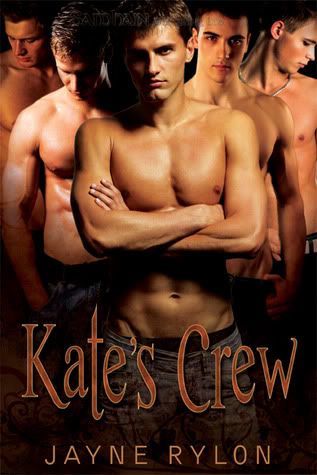 Recap:
There's a five man crew renovating the house next door to Kate, and she can't help but lust after all the hotties, especially the foreman, Mike. When she takes a tumble and is rescued by said foreman, she can no longer keep fighting the attraction. In the aftermath of mind-blowing sex, she divulges her innermost fantasy – to be with his entire crew. She never imagined that fantasy could come true…
Title: Kate's Crew
Series: Powertools
Book #: 1
Author: Jayne Rylon
Approximate Book Length: 51 Pages
Recommended Reader Age: 18+
Sexual Content: Explicit
Thoughts:
I'm a big fan of ménage, which is pretty easy to figure out at this point, but I found this book early on when I was still embarrassed about that fact. It was the first book I read that was not only ménage, but had more than two guys and a girl. I was intrigued, and boy was I happy I gave it a shot.

Yes, this book has a lot of sex in it. There's guys with guys, girl with guy, girl with guys with other guys too, making for a very interesting pool party. The thing about this book though is that while there's plenty of yummy sex, there's a message in it. The crew is very open and honest with each other, and unashamed of who they are and what they like. They have an understanding, a respect for each other. My favorite part about all of it was the concept of accepting tastes, respecting boundaries, and exploring fantasies with people you trust.

There's sex, but there's emotion, and it's hard not to get caught up in every facet of the story Jayne tells. Kate's story caught me from page one, and I was hooked all the way through. I think it was a great quick intro to the crew and was sexy and fun, and has a really good vibe.
In Conclusion:
Sexy, heartwarming, and fun, Kate's Crew will introduce you to a work crew who work hard, but play harder. If you enjoy ménage, I doubt you'll be disappointed with giving this story a read!
Rating:



Links: