A few months ago, I was hunting for authors to do some interviews and guest posts and such, and I did this by perusing my Facebook friends. One of them was Nancy Holder, and even though she's super busy and seems larger than life to me, I took a chance...SHE ACTUALLY RESPONDED! She writes a lot of things, but I know her as a writer of Buffy books, so naturally I was super excited!

I am still super excited, because now I can present to you some questions she was kind enough to answer for me, despite having gone all fangirl on her lol. Please give her a very warm welcome and happy reading! :D
So when did you first get introduced to the Buffy world?
A friend of mine named Scott Ciencin told me that an editor friend of his was looking for a Buffy writer. This was before the show came on the air. I bought the soundtrack from the movie and listened to it for good luck!

Were you writing other things at the same time as the many Buffy books you published during the show's reign (and after)?
Yes. I wrote books based on Sabrina the Teen Age Witch and fairytale retellings such as Spirited and The Rose Bride.

How did the collaborating go for writing the Watcher's Guides?
It was great fun! We were able to divvy up various topics as well as interviews. Some of my favorite actor interviewees include Anthony Stewart Head, Marc Blucas, James Marsters, Amber Benson, and Alexis Denisof. I loved talking to all the producers and of course the crown jewel was spending time with Joss.

Did you end up going to a lot of conventions and things, or at the very least meet the cast? Have you met Joss Whedon, and if so, what did he think of your works?
Yes, I've interviewed Joss a number of times. I spent about a month total on set for the Watcher's Guides and also for The Angel Casefiles. I didn't ask him what he thought of my work. I was there to talk about his. :)

How did writing the Buffy books affect your fan base?
I've made incredible friends among my fellow Buffy fans. Some people only read my Buffy work, but others have branched out. I just wrote a Teen Wolf book, and the same is true, there.

While I have many books that I still to this day love, including The Gatekeeper Trilogy and The Book of Fours, my favorite is Queen of the Slayers. It may be blasphemous to say, but I actually prefer it over the comic book 8th season. How did you come up with that one and how was it received by the Buffy community?
Well, thank you! Every book I wrote was approved before I wrote it, which some fans don't realize. That has to happen when you're writing licensed work. What I did for QotS was watch every Angel episode where what was going on in the lives of the Buffy people was mentioned. It was very complicated!

Now that Buffy is in syndication and it's not particularly relevant to keep writing about her, you've got a couple of series going co-authored with Debbie Viguié. How did that relationship and those series come about?
Well, I also have a brand new Buffy book out in December. It's called Buffy: the Making of a Slayer and it's got a lot of new material as well as images that have never been seen before. It's a tribute book from legendary book producers becker&mayer! published by 47 North, celebrating 15 years since the show came on the air.

Debbie and I have written three series together: Wicked, Crusade, and the Wolf Springs Chronicles. I met Debbie at the Maui Writers Retreat. I was her teacher (for a whole week) and I saw how creative she was, just an awesome writer. I had a four-book series called Wicked to write and I had just had a baby (and was also writing Buffy books.) I asked her to become my collaborator and we have been writing together ever since--ten years and eleven books!

Is there a story you've written that you could call your favorite or at least holds a special place in your heart for some reason?
That's like telling people who your favorite kid is! I do love The Rose Bride, which is a retelling of a rather obscure Grimm fairy tale. It's kind of quirky but I still remember the joy I felt while writing it. But I also loved returning to Buffy land with Buffy: the Making of a Slayer. And I have a Teen Wolf book out. It's called On Fire and it was really awesome to work on it. I tell people "Jeff Davis (the show creator) is my master now." But of course I will always love Joss.

What's your favorite genre to read (if/when you have time!)? Favorite book and author?
I read a lot because I also teach in an MFA program. I love to read my students' work! My favorite book is a tie between The Haunting of Hill House by Shirley Jackson and The Shining by Stephen King. Two haunted house stories!

What advice would you give aspiring authors?
READ. Read as much as you write. Do both A LOT. Be sure to learn basic grammar and punctuation because editors WILL reject you if you have too many errors. You don't want that to get in the way of getting published! TV and movies are great, but you need to absorb the written word.

Is there anything else you'd like to share?
I want to thank everyone who has read my stuff and supported me. Freelance authors lead kinda crazy lives. And I am hosting a Teen Wolf rewatch on Monday nights for Teen Wolf fans. It's on twitter. Just cue up the episode on your own device on Mondays at 10 Eastern, wait for me to type GO, start watching, and tweet! I host trivia contests. On October 22, we will be on season 1, episode 10. On October 29, it will be season 1, episode 11. And so on. I'm @nancyholder.

And...drum roll...Buffy: the Making of a Slayer will go onsale on amazon on December 11th!
Nancy Holder is a multiple award-winning, New York Times bestselling author (the Wicked Series). Her two new dark young adult dark fantasy series are Crusade and Wolf Springs Chronicles. She has won five Bram Stoker Awards from the Horror Writers Association, as well as a Scribe Award for Best Novel (Saving Grace: Tough Love.) Nancy has sold over eighty novels one hundred short stories, many of them based on such shows as Highlander, Buffy the Vampire Slayer, Angel, and others. She lives in San Diego with her daughter, Belle, two corgis, and three cats. You can visit her
here
.
Hot Blooded Coming Soon!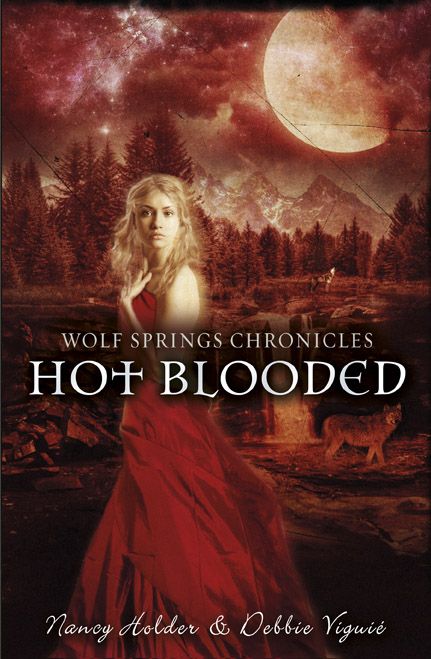 Wolf Springs was just going to be a short stop for Katelyn McBride--until she turned 18 and could return to LA on her own. But Katelyn's plans have unraveled.

Katelyn wasn't in Wolf Springs a month when she was attacked by a werewolf. And now she carries that creature's curse in her veins.

But she's not alone. Wolf Springs is home to werewolves. And they swear that it wasn't any of them who bit her. Changing humans without permission means the death penalty, and they're none too happy about Katelyn.

The only explanation is that there's a monster on the loose--something wild and uncontrollable. Because Katelyn has some of its power.

And two guys want Katelyn: one dark and mysterious, yet perhaps the perfect confidant; the other ferocious and forbidden--a werewolf that she can't keep her hands off of.
On Fire Available Now!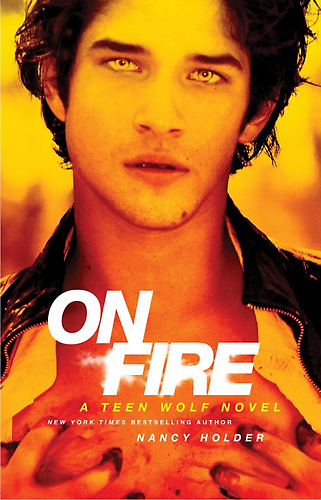 Scott was just a regular guy until one bite changed his life. Now he struggles to understand who he is and what he might become. Is he more wolf than human—or is it the other way around? Whichever it is, it's not going to be easy. Scott tries to control his urges, but mostly he's scared that it's his urges that could end up controlling him. On Fire is the story of what happens when you to walk the line between what you want and what you can't help from wanting. Will the bite end up being a gift? Or will it be a curse? And what will it all mean for Scott's relationship with Allison—the girl he can't get enough of? Only time will tell if he should embrace his newfound powers, or if he should fear them.
Buffy: the Making of a Slayer Coming Soon!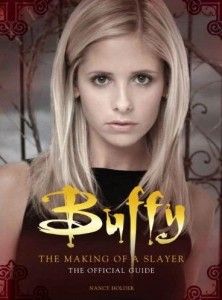 Celebrating the 15th anniversary of Joss Whedon's Buffy the Vampire Slayer TV series, this lavishly produced book is the first authorized, fully illustrated retrospective of the hit show. Offering in-depth commentary on the making of the series, the book explores the characters and mythology of the Buffy universe and follows the evolution of all seven seasons. Die-hard Whedon fans will also find insider information on his involvement in other projects, including Angel, Firefly, and more. Housed in a foil-stamped slipcase, this volume features more than 120 images, including rare behind-the-scenes photos, sketches, props and memorabilia from the Twentieth Century Fox archives, along with stills from the most pivotal on-screen moments. Tucked in the inside cover of the case is an envelope holding "Slayer Lore: Texts and Magicks for the Battle." These 13 removable pieces are replicas of the ancient spells and prophecies the characters used on-screen to defeat vampires, demons, and other monsters, making this the ultimate treasure-trove for every Buffy fan.