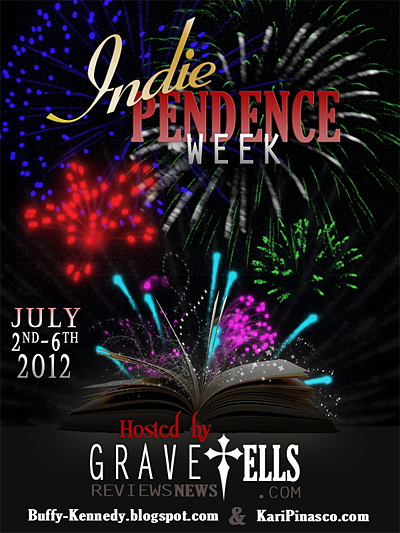 Big thanks to
GraveTells for hosting this and showing such support for Indie authors! DVK has some great content for this week to both spotlight and provide resources for authors going the indie route.
One of the big discussion topics going around is the definition of an indie author. what makes an author "indie"? Now I believe that anyone who takes the chance and coughs up the courage to put their work out there themselves is an indie author. The more I thought about it however, I realized that there are some small presses that pretty much just give some assistance to authors that are putting out their own work. CreateSpace is a perfect example of that. I actually know several indie authors that use them and their work is great and still very much theirs and theirs alone.
Now I don't have a lot of connections or anything when it comes to the indie author path and what all it entails, but I do know of a cover artist, a new/small publisher who also does graphics, and a promo company. I also know a lot of authors that would be willing to share their experiences and such, but don't want to just throw their names out there and invite you to contact them without speaking with them first. If you're interested, email me and I can point you in the right direction :-)
Once Upon a Time Covers
Fated Desires
Book Trailer Showcase
Ok, now on to the giveaway for my stop on this hop. I want to shine a light on some of my favorite indie authors, so I'm offering 1 winner his/her choice of these books from Amazon or Barnes and Noble:
Blood Awakening by Wenona Hulsey
Significance by Shelly Crane
Destiny Binds by Tammy Blackwell
Blood Avenged by Gabrielle Bisset
Angered Seasons by Mireille Chester
Craved by Stephanie Nelson
The Mystic Wolves by Belinda Boring
Immortal Voyage by CG Powell
Some of these are series firsts, so if you've already read it and want the next in the series, that's negotiable ;-)
Just enter the Rafflecopter below and you're golden! Open to US/INT since it's digital copies up for grabs.
Thanks for stopping by and don't forget to keep hopping!
a Rafflecopter giveaway