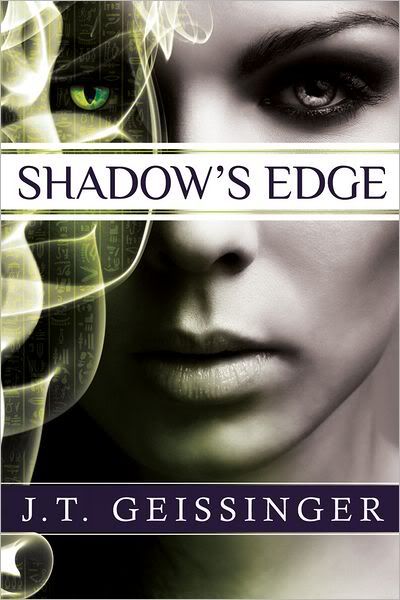 Recap:
The Ikati are an ancient race of shapeshifters who live in secrecy and are bound by a ruthless law. Their leader, Leander, embarks on a mission to assess a young woman with Ikati blood who was unfortunately raised in the human world. Jenna has spent her entire life hiding, running from an unknown enemy. Her parents never got around to telling her the details before they died, and now she's on her own when a mysterious stranger arrives in her life and turns it upside down. Leander and Jenna could be each other's condemnation or salvation, if they're brave enough to explore their connection.
Title: Shadow's Edge
Series: Night Prowler
Book #: 1
Author: JT Geissinger
Approximate Book Length: 359 Pages
Recommended Reader Age: 18+
Sexual Content: Moderate
Thoughts:
I really, really enjoyed this story! The mythology is unique and creative, and the characters are compelling. Leander is a devoted leader and more sentimental than I would've guessed. Jenna is intelligent and is stronger than she first appears. All the characters have such depth, you find yourself so invested that while you're rooting for the hero and heroine, you want to cry for some of the secondary characters knowing what kind of toll everything is taking on them too.

My only complaints are that I would've liked to see more panther-shifted time, but maybe that's just my cat-lover showing, and that Leander and Jenna are both so connected, yet conflicted and they get too stubborn for their own good on occasion. Then again, what romance book couple doesn't? Truth be told, there's no real complaint from me. The book is well written, well paced, and has me anxious to know if/when there will be another installment. The writing style reminds me of Jacqueline Frank, so I think any fan of her work will enjoy JT Geissinger's!
In Conclusion:
Shadow's Edge is a mesmerizing debut novel for JT Geissinger. Mystical and exciting, it will keep you up all night, unable to put it down until you read the final page. Then it will leave you wanting even more! Any paranormal romance or urban fantasy fan will love this book!
Rating:



Links: