REVIEW: Night Unbound by Dianne Duvall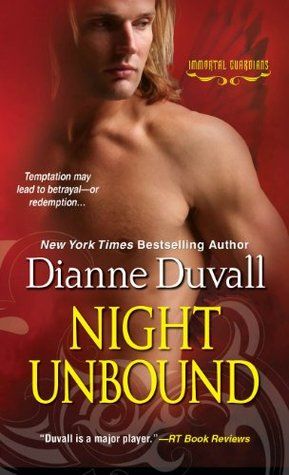 Summary:
For centuries, Lisette d'Alençon has been a warrior against the dark. She fights alongside her brothers and comrades. But when the dreams start coming, she can't bear to confess them to the Immortal Guardians' command. Dreams of a dark-haired man with soft eyes and brutal wounds, a man her heart aches for--and a man she knows has been declared a traitor.

Zach is an exile, a loner. He won't defend himself against false accusations or grovel to those who should have faith in him. But he'll damn sure defend the woman who kept him sane against a plague of super-vamps that seems to have appeared from nowhere. The Guardians will blame him, and that will make Lisette suspect, too. With life, death and eternity on the line, who can they really trust?
Title: Night Unbound
Series: Immortal Guardians
Book #: 5
Author: Dianne Duvall
Approximate Book Length: 433 Pages
Recommended Reader Age: 18+
Sexual Content: Moderate
Thoughts:
It is extraordinary to see a series that is so consistently enjoyable and well written. I LOVED this book. I laughed, I cried (a lot in fact), and was left wanting more in the best way. There are parts that keep you guessing too and I have my theories on what's to come in the next book. I also bet I know who the next book is about!

We get a lot more info, but also many more questions. We learn about Zach and even Seth and that was SO good to see. I can't wait until Seth gets his story – David too for that matter! There's a great deal covered just in this book and it's impressive how well paced it is to encompass so much. We see new as well as familiar faces and the story is overall just heartwarming in a variety of ways.
Bottom Line:
Night Unbound is sexy, exciting, and emotionally gripping. It only fuels the love I have for the series as a whole. Dianne Duvall is an amazing author and this book just goes to prove why in a breath taking show of talent!
Rating:




Links: