BLOG TOUR: Dead Reaper Walking by Mina Carter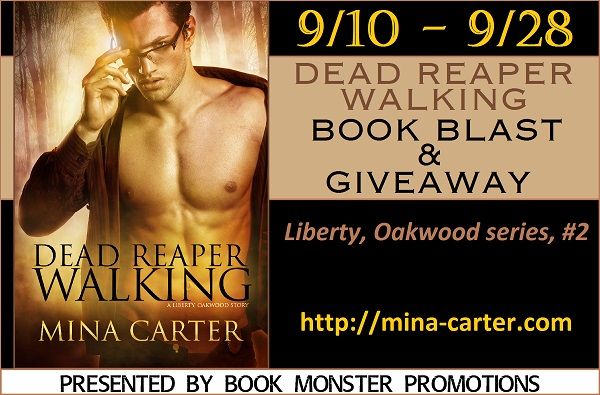 Thanks to Book Monster Promotions for hosting this blog tour. I'm sharing a little about Mina Carter's new release, Dead Reaper Walking. Happy reading!
*****************************
Liberty, Oakwood series, #2

Underage witches, a breakout from demon prison and a new hellgate… What could go wrong?

Reaper extraordinaire, Laney Larson, is stuck in Liberty, Oakwood of all places, for two reasons. One, there's way more paranormal activity going on than normal for a little town like Liberty. And two, a sexy as hell cop called Troy.

So when the proverbial hits the fan and they get wind of a demon break-out from the third hell, a prison even the demon king himself won't set foot in, what's a reaper to do but strap on her blades and help track the escapee down? But then the creature takes her man, and all bets are off.

A reaper, a demon and a cop…will Death claim them all, or just one?
*****************************
About the Author
Mina Carter is a bestselling, multi-genre author. She lives in the UK with her husband, daughter and a bossy cat.
Find the author:
Website
Facebook
Twitter
Goodreads
a Rafflecopter giveaway