REVIEW: Lost in Starlight by Sherry Soule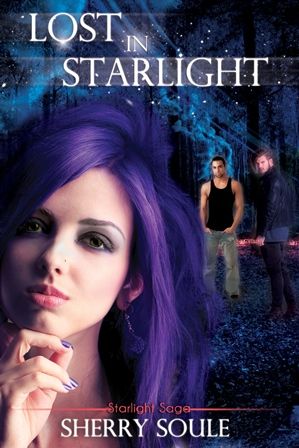 Summary:
High school is tough. Romance with a sexy alien--even tougher.

Star reporter Sloane Masterson knows she has one helluva story when she witnesses hottie Hayden Lancaster bending forks with his mind.

Like any good journalist, Sloane sets out to uncover the truth, even if it includes a little stalking. When the superhuman feats start to pile up and the undeniable heat rises between them, Hayden has no choice but to reveal his secret: he's an alien hybrid.

They're as different as night and day--she's a curvy, purple-haired, horror junkie and he's a smoking hot, antisocial, brainiac--yet the intense fascination between them refuses to go away. Even at Hayden's insistence that dating each other is "off limits" and dangerous, their fiery attraction threatens to go supernova.

Now Sloane's learning to deal with creepy government agents, über snobby extraterrestrials, and getting a crash course on the rules of interstellar dating. But Sloane must decide if their star-crossed romance is worth risking her own life....
Title: Lost in Starlight
Series: Starlight Saga
Book #: 1
Author: Sherry Soule
Approximate Book Length: 293 Pages
Recommended Reader Age: 16+
Sexual Content: Mild
Thoughts:
This book was…interesting. The romance was pretty good, when they weren't playing the "hot 'n cold" game. The extraterrestrial part was intriguing and on occasion exciting.

The story, while predictable, was okay. I think Hayden is a coward and Sloane is naïve, but I'm curious what the next installment holds – especially after the way this one ended.

The bulk of the book though, was a little rough. The Friday Night Babble column was a cute addition, but I didn't dig it much. There was a lot of detail that was unnecessary, sort of a "data dump" if you will; there could have been more show than tell in many places. The characters, particularly Sloane and her friends, were walking stereotypes and that bothered me quite a bit actually. There are definitely some similarities to a certain sparkling vampire saga, but it's not overwhelming. Overall it just doesn't stand out to me.
Bottom Line:
Lost in Starlight is an interesting read with a lot of potential that's worth checking out.
Rating:

Links: