BLOG TOUR: Colors of Us by Sandra Bunino
Thanks to Bewitching Book Tours for hosting this blog tour. I have Sandra Bunino, author of Colors of Us, here today. Please give her a warm welcome!
*****************************
Welcome Sandra! Glad to have you here :-)
Hi Buffy! *waves*
I'm so excited to chat with you about my new release, Colors of Us, today.
The settings of my stories are almost like a secondary character to me. They set the tone, ground the reader and make the story real. I need to know where my characters are before I can write them so I'll usually research the setting first and let the story evolve from there.
The setting of my new series, McAvery Brothers, is the SoHo section of New York City. The name "SoHo" refers to the streets "South of Houston Street" (for non-NYers: Houston is pronounced HOUSE-ton not Houston as in Texas).
SoHo is one of my favorite spots in NYC. It's adjacent to Greenwich Village, where I spent many fun nights, and is filled with artist lofts, galleries, shops and restaurants. It's quirky, cool, fashionable and bohemian all at the same time. A few great SoHo specific features are its cobblestone streets (which get a mention in Colors of Us), fantastic sidewalk restaurants and wonderful art galleries.
Fun fact: Those who read Brooke's Wish may remember the dressing room scene at the lingerie shop. That shop is Kiki De Montparnasse in SoHo.
I took a few trips to the area while researching of Colors of Us to be sure I captured the unique vibe of the location. During these visits I found my inspiration for the fictional McAvery's Bar. The story came together at that point because my characters had a home. McAvery's is a special place and I look forward to continuing the journey into the lives of the McAvery brothers and the women they love.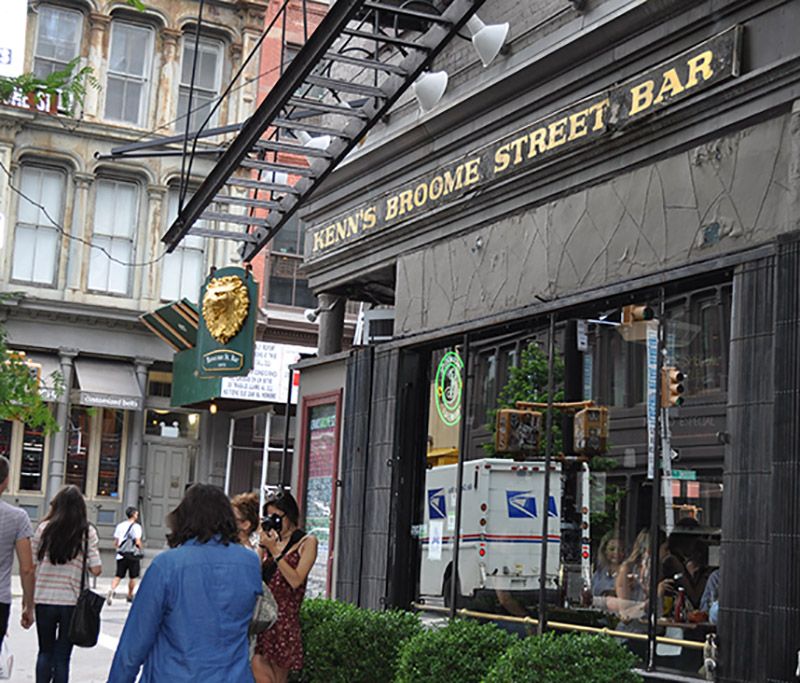 What's next? My heart belongs to New York and there are so many stories floating around this wonderful city. So I think I'm staying here for a while.
Thanks again for having me, Buffy! It's always a pleasure to visit you.
*****************************
About the Author
Sandra Bunino is a romance author of several novellas including The Satin Rose Experience series. Her first full-length novel, Colors of Us from the McAvery Brothers series, released in August. She makes her parents proud by putting her MBA degree to good use dreaming up heroes who resemble David Gandy whenever possible. When not staying up past her bedtime torturing her oh-so-sexy heroes, she can be found shopping for shoes or saving turtles.
As a social media junkie in need of a ten-step program, you can also follow her on Facebook, Twitter, and her new addiction, Pinterest. Sandra loves to read and chat with other readers, so she formed the Bunino's Bookalicious Babes group on Facebook where they currently share their love of Jamie Fraser from Outlanders…and David Gandy, of course.
Find the author:
Website
Facebook
Twitter
Goodreads
Colors of Us
Everything she knew to be true fell apart. Then fell apart again…

Michelle Willis is running from her past. What better place to hide than in the anonymity of New York City. Finding refuge in a tiny SoHo art gallery, she rebuilds her life one painting at a time.

A wrong turn sends Hunter McAvery on a crash course with disaster. He fights his own demons by following his big brother's lead - drinking and bed-hopping his way through Manhattan.

A glance at Michelle's self-portrait triggers emotions Hunter can't tamp down. Driven to meet the artist, he discovers a fiery chemistry as their lives collide. But when their past threatens to tear them apart, can their love survive?
a Rafflecopter giveaway