REVIEW: In Still Darkness by Dianne Duvall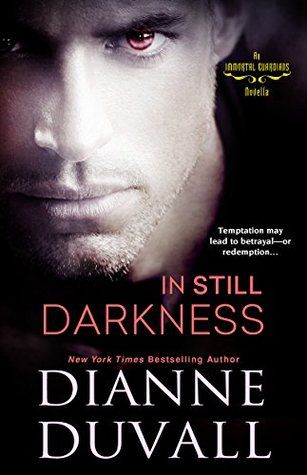 Summary:
It's not the first time Immortal Guardian Richart d'Alençon has saved a human life from eternal damnation. Usually, he moves on, a nameless savior like a ghost in the night. But this time he can't seem to forget the woman who rewarded him with a sensuous kiss after he rescued her from a trio of vampires. While Richart knows that loving a human can only bring trouble, the taste of forbidden lust is too great to resist...

Jenna never imagined she'd end up a single mom working overtime to put her son through school. But she might have daydreamed once that a devastatingly gorgeous Frenchman would sweep her off her feet. Now that a package of tall, dark, and handsome seems intent on doing just that, doctors are telling her she may not have long to live. But Richart is telling her just the opposite. All she has to do is abandon her humanity...
Title: In Still Darkness
Series: Immortal Guardians
Book #: 3.5
Author: Dianne Duvall
Approximate Book Length: 98 Pages
Recommended Reader Age: 18+
Sexual Content: Moderate
Thoughts:
For a novella, this book is EVERY bit as good as the full length novels in the series! It was originally part of the Predatory anthology, but was recently released on its own. I'm so glad it has, so it can get the attention it deserves.

Richart's story takes place primarily between books 3 and 4, but contains glimpses of events from his point of view from book 2 as well. It's sexy, riveting, and most of all it's adorably sweet. While it's overall an awesome novella, my favorite part actually involves Roland. Too freakin' funny!
Bottom Line:
In Still Darkness is an exciting and just plain fun novella in Dianne Duvall's Immortal Guardians world. Fans of the series would be remiss if they skipped it!
Rating:



Links: