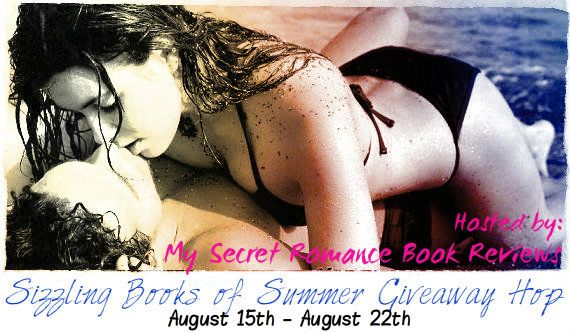 Big thanks to
My Secret Romance Book Reviews for hosting this giveaway hop! The Sizzling Books of Summer Giveaway Hop is for the books you've read this summer that have made you sizzle. Whether it's a steamy historical, a sweet contemporary or an erotic romance, share your favorite sizzling read. Grab the sun tan lotion, sun glasses, bathing suit and a yummy drink. This hop is sure to be a hot one!
First off, let's get this drink think taken care of, because it's funner to kick back and relax with a sexy read with a little buzz. One of my favorite drinks is the Malibu Bay Breeze, mostly because you can't taste the alcohol so it goes down smoothly and tastes all fruity! It's also real easy to make. To give it a go, here's the recipe:
1 1/2 oz Malibu coconut rum
2 oz cranberry juice
2 oz pineapple juice
Now that that's out of the way, let's move on to the books. So many to choose from! Here are a few of my favorites:
Public Displays or Eroticism by Cassandra Carr, Cristal Ryder, and Jami Davenport
Seven Sexy Sins by Serenity Woods
Fire Balls by Tara Lain
Lusted in Las Vegas by Sandra Bunino
Love Kinection by Jennifer James
Deceptive Attraction by Tara Lain
Some of these are part of a series, but are not series firsts, so if you want book 1, or you've already read book 1 and want another in the series, that's negotiable ;-)
Just enter the Rafflecopter below and you're golden! Open to US/INT since it's digital copies up for grabs.
Thanks for stopping by and don't forget to keep hopping!
a Rafflecopter giveaway