Tiffany King is a YA author of the
Saving Angels
series and I've been lucky enough to give book one a read.
Meant to Be
was exciting and intriguing and sweet and I'm glad to have a chance to sit down with the two stars and the author. Maybe I'll get a chance to go even more in depth some time :-)
A Few Questions for Tiffany:

What's your favorite part about being an author?
My favorite part about being a writer is the opportunity of being able to tell someone else's story. It is truly a dream come true to be able to do something I love for a living. I feel very blessed.

Who's your favorite author and what's your favorite book?
I'm a huge J.K Rowling fan. I could read her books over and over again...oh wait I already have LOL

How'd Krista's story come to you?
Krista's story came to me from an idea I had when I was a teenager. At the time I thought it would be cool to write a story about a girl who dreamt about the same guy every night. I liked the whole idea of them sharing a connection.

Did you know the whole story when you first started telling it, or did you just write as it came to you?
It came to me as I started writing. It was as if it had a voice of its own. A very persistent voice, I might add LOL.


A Few Questions for Krista and Mark:

How did you feel when you realized who you were to each other?
K) LOL like a freight train had hit me. I was very confused and yet at the same time I was filled with overwhelming joy. It was surreal to say the least.
M) I felt as if everything was suddenly right in the world.

I know you felt love and were happy, but there had to be a moment of fear and confusion on both sides. Did either of you actually expect to ever meet the one in your dreams?
K) A part of me always wished he was real but the sensible part of me wouldn't let me truly believe.
M) I always knew she was out there. For me it was easier, I've always had a clear picture of what Krista looked like. I knew I'd find her someday.

Krista, is your mom any more comfortable with Mark and the whole situation? How much did you tell her about everything that happened?
K) LOL we kind of have my mom on a need to know basis right now, because let's face it, it's a pretty out there idea if you think about it. Even we had a hard time adjusting to it at first.
Native Floridian, Tiffany King, is the author of the Saving The Angel series, Wishing for Someday Soon and Forever Changed. In the last 2 years Tiffany has had 5 amazing books released. Lover of Harry Potter and all things chocolate, she is truly a kid at heart!
Find her
here
.
Meant to Be Available Now!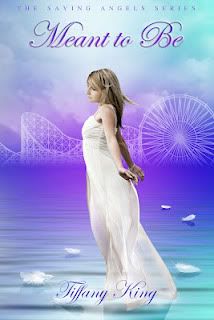 Krista Miller feels like she has lived her entire life in a glass box with her every emotion on display. She can't help feeling like a defect as her sensitivities have made her socially inept and without any real friends; the one exception being the boy that visits her each night in her dreams.

Krista's emotions are put to the test when a move to California triggers a devastating change to her fantasy world. The nightly comfort that the boy provides has now become a recurring nightmare as he is taken from her by an unseen force.

Struggling to appear normal, Krista enrolls in a new school and finds it to be nothing like she thought. Her new life is sent spiraling out of control from a strange connection with a boy, Mark, who claims to know all her secrets.

As Krista begins to explore the emotions that Mark evokes in her, secrets about their mysterious past and their predestined purpose threatens to separate them just when they have found each other.