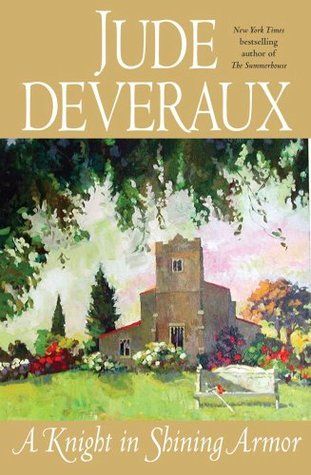 Summary:
Abandoned by her lover, thoroughly modern Dougless Montgomery finds herself alone and brokenhearted in an old English church. She never dreamed that a love more powerful than time awaited her there... until Nicholas Stafford, Earl of Thornwyck, a sixteenth-century knight, appeared.

Drawn to him by a bond so sudden and compelling that it defied reason, Dougless knew that Nicholas was nothing less than a miracle: a man who would not seek to change her, who found her perfect just as she was. But she could not know how strong were the chains that tied them to the past -- or the grand adventure that lay before them.
Title: A Knight in Shining Armor
Series: Montgomery/Taggert
Book #: 15
Author: Jude Deveraux
Approximate Book Length: 480 Pages
Recommended Reader Age: 18+
Sexual Content: Moderate
Thoughts:
I once strongly suggested The Host – one of my favorite books of all time – to my mother-in-law. In return, before I move, she insisted I read this book for the same reason.

For probably the first half of the book I was wondering WTF?! Nicholas seemed like a big womanizing jerk and Dougless (the name irritated me, but meh) seemed like an irritable, naïve doormat. Yet, by the end, I LOVED IT. I don't usually like time travel romance, but I thoroughly enjoyed how this one worked.

I have never seen a better example of character growth in a book than what I read of Nicholas and Dougless in this book. The reactions of the characters to being thrust in unfamiliar surroundings is realistic, and the description of the 16th century paints an incredibly vivid picture. It was just a very well-written book!

The ending is controversial, and to understand why, you'll have to read or you'll spoil it. However, I can't imagine a different ending in any way and I was completely satisfied.
Bottom Line:
A Knight in Shining Armor is a fantastic read that surprises you. I went from wanting to slap the characters to being unable to stop turning the pages. It's a truly transformative read that I recommend to any hopeless romantic!
Rating:



Links: