REVIEW: Bonds of Desire by Lynda Aicher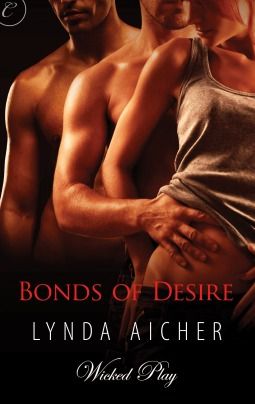 Summary:
Lawyer Allison English never planned to return to The Den--despite her naughty fantasies about being bound by owner Seth Matthews. But when club guest Tyler Wysong is injured in a scene, Seth turns to Allie for help. Aroused by both men, Allie should turn the case down. But she can't...

After his bad experience, Tyler has no interest in being with another Dom. Yet he can't deny his attraction to Master Seth. When Seth offers him a place to stay, Tyler agrees--if Allie will stay too. But what good is a chaperone who adds to his temptation?

Living with two subs brings out Seth's protective instincts, though Allie insists she's not into the lifestyle, and Tyler swears he's done with it. But the chemistry between the trio prompts them to agree to submit to him for one week, and he'll show them both the true pleasure that a Dom can provide.

The intimacy could break them all, or bind them together forever...
Title: Bonds of Desire
Series: Wicked Play
Book #: 3
Author: Lydia Aicher
Approximate Book Length: 229 Pages
Recommended Reader Age: 18+
Sexual Content: Explicit
Thoughts:
When I picked this book up, I didn't realize it was the third in a series. As I read it, I could tell there had been other stories, but I didn't feel like I'd missed something. The BDSM theme is almost negligible, though I get the impression that's specific to this book and not the previous ones. The club the story centers around is BDSM and it starts off with a scene (a heart breaking one), but the relationship is more tender with maybe some commands or something. I actually really liked that element.

The book as a whole felt realistic, took me through a range of emotions, and got me invested in the characters. The characters felt alive and I loved who they were and how they progressed from acquaintances to lovers. I especially appreciated the sacrifices made and how it played out to get some kind of justice for the beginning of the book that tugged at the heart strings so much. I will definitely be seeking other books in this series.
Bottom Line:
Bonds of Desire is a compelling read with an authentic feel. It's a sexy love story that evolves from darkness and I thoroughly enjoyed it.
Rating:



Links: