BLOG TOUR: Prince of Tricks by Jane Kindred

Thanks to Bewitching Book Tours for hosting this blog tour. I have Jane Kindred, author of Prince of Tricks here today talking about demons. Welcome!
*****************************
Most writers have a complicated relationship with their characters. I used to keep mine to myself, thinking it was a little too close to saying I have voices in my head to admit that I have conversations—and arguments—with my characters from time to time. And the more dynamic the character—the more backtalk I get from one—ultimately, the better the writing. I can say with certainty that no character has ever given me more grief than Belphagor, the Prince of Tricks.
But Belphagor pretty much speaks for himself. So without further ado, here are ten quotes from Prince of Tricks that should give you a pretty good picture of what it's like living with a demon like Belphagor inside your head.
One:
He tightened his hand against the bruised, beautiful ass, and Vasily made a slight noise of discomfort. "You'll have quite a reminder of my hand when you try to sit for the next few days."
"Not just your hand," said Vasily gruffly.
Two:
He bit his lip at the picture of Vasily beneath him wearing nothing but the fancy coat. "I'm afraid your pretty coat may end up a bit the worse for wear, my dear malchik, because I'm about to give you what-for."
Three (while finding himself unexpectedly prone beneath a pair of extremely flexible female prostitutes): Belphagor covered his eyes. "Wait. Wait a minute. I was hoping we could talk." When he peered between his fingers, Tabris wrinkled her nose at him in confusion, perched above Sefi's—bozhe moi. "Please. Just…put yourselves back together."
Four:
He let himself out of the brothel while Sefi and Tabris found another victim—a willing one, no doubt. Belphagor shrugged. To each his own. He drew a breath of relief in the cold—and titless—air. At least the demonesses would have to be bundled up for the journey. He wasn't sure how much more tit he could take.
Five:
"He'd better not have some damned dengue fever or something, Bel."
"It's not dengue fever, for Heaven's sake. He picked something up on the train."
"The train from Siberia. I'm pretty sure they have dengue fever there."
Belphagor nearly choked on his tea. "They do not have dengue fever in Siberia. It's a tropical disease carried by mosquitos."
"We have mosquitos."
"In winter?"
"All right, but if we all die, it's on you."
Six:
"Bozhe MOI!" Dmitri dropped the blin he was flipping onto the floor as he turned and saw Belphagor sitting down. "Get your naked ass off my kitchen chair!"
Belphagor crossed his legs at the knees, bobbing one tapochka in the air. "It's a clean ass. You certainly didn't have any objections to putting your t—"
"Belphagor!"
"Oh, let him finish," said Lev from the door. He leaned against the frame and tossed a robe to Belphagor. "It was just getting interesting. Putting your…toe? Tapochka?"
Belphagor stood, slipping his arms smoothly into the robe as he slung it around his shoulders. "I never get kissed and tell," he said and tied the sash.
Lev saw the blin on the floor and went to clean it up while Dmitri stood aside, glaring daggers at Belphagor. "You never kiss me that way," he said to Dmitri with a smirk when he straightened.
"You want to go? Let's go." He tugged on Lev's arm as if he'd drag him to the bedroom, looking deadly serious. "I'll do it right now. I'll kiss you 'til you can't sit down."
Seven:
Belphagor was excited to show Vasily Moscow. It wasn't his usual stomping grounds when he came to the world of Man; he'd spent far more time in Leningrad, and it was where he'd intended to go before Vasily's illness had necessitated more immediate lodging. But where Leningrad was uncannily familiar in its resemblance to Elysium, Moscow was completely otherworldly.
He had to warn Vasily against physical affection—or even closeness—on the streets. Raqia wasn't exactly accepting of relations between two men, but such behavior wasn't considered shocking or immoral, merely looked down upon as somewhat seedy and indulgent, like frequenting prostitutes. In this corner of the world of Man, at least, it was not only illegal, it could get you killed.
Vasily was baffled. "You can't even do it for pay?"
"Oh, the trade exists here," Belphagor assured him. "But outside the law. All prostitution is illegal."
"That doesn't even make sense," Vasily exclaimed. "How do you make compensating someone for their skills and services illegal? Everybody just has to give it up for free to any jackass who wants it?"
Belphagor smiled indulgently as he helped Vasily on with his new coat. "The law doesn't say you have to give it up. You just can't get paid."
"Well, I hate that law. And the other one too."
Eight:
Vasily pulled away from him, his tears utterly forgotten. "Are you fucking serious?"
"I am always fucking serious about discipline, my dear boy."
Nine:
Phaleg choked back a sob and melted against Belphagor, his head against his thigh. "I don't know how you've done this to me," he said mournfully.
Belphagor brushed the golden hair away from the damp eyes and kissed the angel's temple. "That's all right, dear boy. No one ever does."
Ten:
"I'm not used to needing anyone. You've slain me. You're Svyatoy Georgiy, and I'm your dragon."
"I'm who?"
"Shut up and let me be your dragon."
*****************************
About the Author
Jane Kindred is the author of The House of Arkhangel'sk trilogy, the Demons of Elysium series, and The Devil's Garden. Born in Billings, Montana, she spent her formative years ruining her eyes reading romance novels in the Tucson sun and watching Star Trek marathons in the dark. She now writes to the sound of San Francisco foghorns while two cats slowly but surely edge her off the side of the bed.
Find the author:
Website
Facebook
Twitter
Goodreads
Prince of Tricks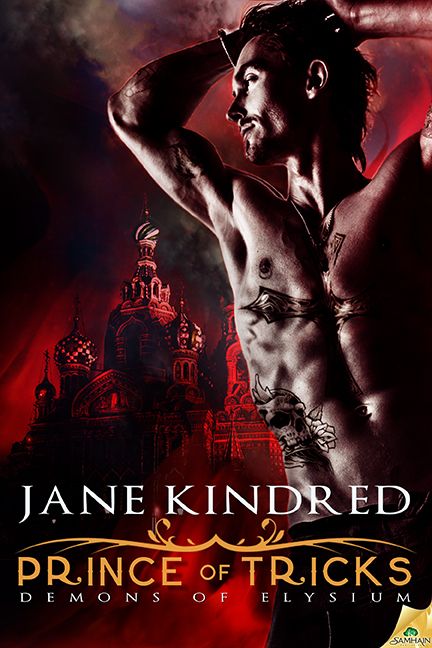 When desire rises, angels will fall. One, by one, by one…

Over the past century, Belphagor has made a name for himself in Heaven's Demon District as a cardsharp, thief, and charming rogue.

Though the airspirit is content with his own company, he enjoys applying the sweet sting of discipline to a willing backside. Angel, demon, even the occasional human. He's not particular. Until a hotheaded young firespirit steals his purse—and his heart. Now he's not sure who owns whom.

A former rent boy and cutpurse from the streets of Raqia, Vasily has never felt safer than in the arms—and at the feet—of the Prince of Tricks. He's just not sure if Belphagor returns those feelings. There's only one way to find out, but using a handsome, angelic duke to stir Belphagor's jealousy backfires on them both.

When the duke frames Vasily for an attempted assassination as part of a revolutionary conspiracy, Belphagor will do whatever it takes to clear his boy's name and expose the real traitor. Because for the first time in his life, the Prince of Tricks has something to lose.
***One grand prize: Caviar gift basket from House of Caviar -- Or $150 gift card (winner's choice) This giveaway is US only -- 10- $10 Amazon or B&N gift ecards (winner's choice)***
a Rafflecopter giveaway